Service NSW Sydney faces charges of being kept behind bars
A man accused of stabbing a Service NSW worker on Friday will remain in detention for at least eight weeks despite attempts by his lawyer to have him transferred to a psychiatric facility.
Mahmoud Salhab, 37, failed to appear at Parramatta Bail Court on Saturday morning, where it was ruled he would undergo a psychiatric evaluation.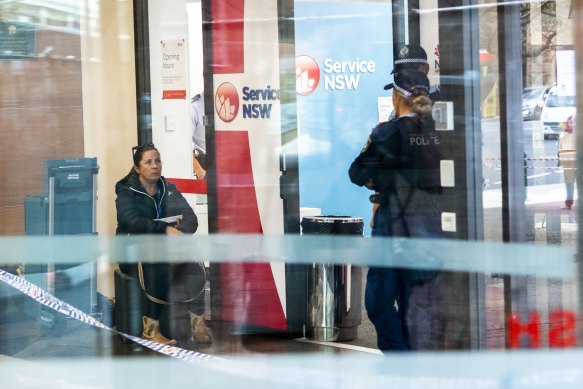 Members of Salhab's family attended the courthouse but did not attend the hearing.
Salhab's lawyer, Javid Faiz, initially requested that his client be transferred to a psychiatric facility. The judge found there was insufficient evidence to support this and instead ordered a mental health inquiry to be conducted in detention, acknowledging that it would constitute a "time lag".
Loading
Faiz told the court that his mental health issues made it difficult for him to get directions from his client and that there were concerns from correctional officers at Surry Hills Police Station about the administration of Salhab outside a mental health facility, which contributed to the decision that he does not appear via video link from the broadcaster to the hearing on Saturday.
Salhab is accused of stabbing a Service NSW worker in the lower back, chest and shoulder at the organization's Haymarket branch around 9.20am on Friday.
The 54-year-old male victim was taken to St Vincent's Hospital in critical but stable condition after undergoing surgery on Friday.
A Service NSW spokesman confirmed the man was still in hospital on Saturday and the organization has been in contact with his family to be kept regularly updated on his condition.