Seriously ill face delays in NSW emergency departments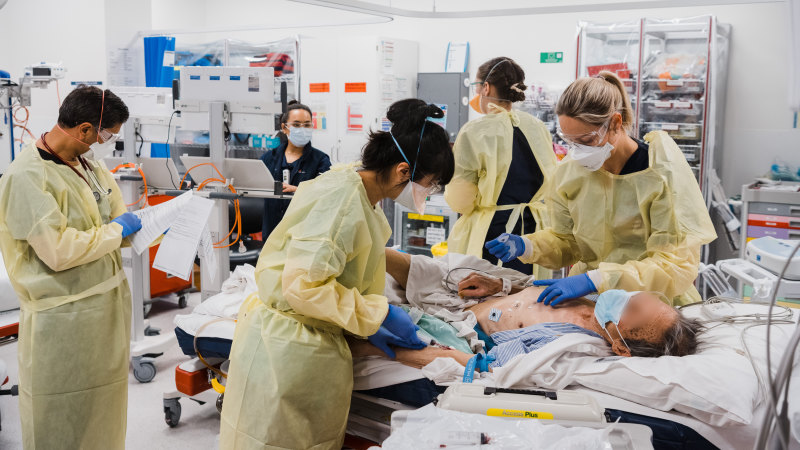 "The pressure on the ER just keeps building," Skinner said. "It's just not sustainable."
Loading
NSW Deputy Health Secretary Adjunct Professor Matthew Daly said it was worth noting that almost half of all ED presentations in the quarter were less serious cases, with more than 370,000 in the semi-urgent and non-urgent categories.
"We urge the community to support our hard-working frontline workers by helping our emergency rooms and ambulances save lives," Daly said.
The Perrottet government has pledged to open 25 emergency clinics to distract people with non-urgent health conditions that are clogging emergency rooms.
But Skinner said it's a "total myth" that people who couldn't find a GP with bulk billing were the reason EDs are overwhelmed.
"That's just not the case. It's part of the problem, but this one [BHI] Statistics show that people who come to the emergency room have life and body threatening conditions," Skinner said.
"Triage 1 and triage 2 patients are by definition not treated in an emergency center."
Overall, one in three of the 773,415 people presenting to emergency departments in NSW waited longer than clinically recommended to start their treatment in the last quarter of 2022.
More than one in 10 patients eventually admitted to a hospital ward initially spent at least 20 hours in EDs, and half of all urban ED patients exceeded the four-hour benchmark (48.8 percent).
Loading
A total of 67,898 patients exited the emergency room with no treatment or before treatment was completed, an increase of 31.7 percent (16,342) compared to the pre-pandemic quarter of October-December 2019.
Skinner said: "I'm concerned for the one in 10 patients who wait more than 20 hours in the emergency room because we know this is causing problems to their health, and I'm concerned for the people who are leaving without treatment because we don't know what happens to them. Do they end up getting worse?"
The pressure on NSW's operating rooms is unrelenting, with 99,300 people on waiting lists for elective surgery by the last day of 2022, while hospitals are struggling to cope with backlogs caused by the suspension of non-urgent and some semi-urgent surgeries during the peak of the pandemic were exacerbated.
Waiting lists for children's elective surgery rose to 4185 – 2656 for Children's Hospital in Westmead and 1529 at Sydney Children's Hospital Randwick – on the last day of 2022 – as the staffing crisis worsens.
A total of 17,074 patients waited longer than clinically recommended at the end of 2022 – including 1,142 children – compared to just 1,144 patients at the end of the pre-pandemic year 2019.
About one in four patients who underwent surgery during the quarter had waited longer than clinically recommended, and one in ten patients had waited more than 526 days for non-urgent surgeries — longer than any quarter since reporting began in 2010 .
Labor NSW health spokesman Ryan Park said the data showed NSW hospitals had been overwhelmed, underserved and severely neglected.
"We also know that the Liberals' cap on the wages of our nurses and paramedics is making it harder to recruit and retain people in these critical roles, exacerbating understaffing in our hospitals and driving wait times in our emergency rooms out of control," said Park.
The Morning Edition Newsletter is our guide to the day's most important and interesting stories, analysis and insights. Login here.
https://www.smh.com.au/national/nsw/critically-ill-overwhelm-nsw-emergency-departments-in-record-numbers-20230228-p5co35.html?ref=rss&utm_medium=rss&utm_source=rss_national_nsw Seriously ill face delays in NSW emergency departments