SCG chief calls for day-night pink ball pink tests in Sydney after slight delay farce
"If it's becoming more common with climate change and what have you got then we should fix that and if using a pink ball works why not.
Loading
"We could do a day-nighter or just use a pink ball for the whole game. I'm sure the McGrath Foundation would like a pink ball in the Pink Test."
During the test, Hockley said replacing the lights in towers at cricket grounds across the country with new LED bulbs would help reduce poor light problems, but Shepherd insisted that was not a problem at the SCG.
"The Beacons are as powerful as you can get," Shepherd said. "I don't think there's anything wrong with the technology. I checked and was told that if there was more lighting, we would blind people. You could probably light up half of Sydney with these towers. That is not the problem."
Hockley claimed the scheduling would prevent Sydney from becoming a day-night test.
"It's an interesting idea and would really suit one of the most iconic Test matches on the global cricket calendar," he said. "The problem with a day-night test here is that the Big Bash night games are a really successful part of the calendar for fans and broadcasters. We have cricket on TV effectively from 10am to midnight some days which is a big part of the broadcast rights deal and gives fans so many options. It is also important to encourage more children to play.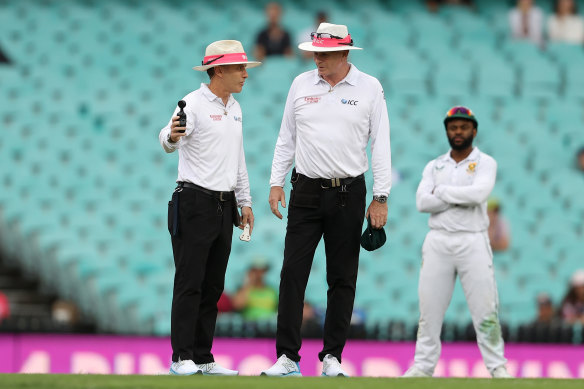 "For the last few days there has been discussion about the pink ball and whether there could be a pink ball that could be developed that behaves like a red ball. [so] maybe a day test here with a pink ball would be an interesting idea."
Fox Sports general manager of cricket Matt Weiss advocates a day-night test in Sydney.
Loading
"We're big supporters of the pink test moving into prime time," he said. "It delivers a great audience and the crowd that goes to the pink ball tests has been good. You see that in Adelaide. The public enjoys it and we would be right behind it. I think the players are having a lot of fun with it now too.
"You would have to look at the 61-game Big Bash. That would take up another five evenings of prime time, which would create some scheduling difficulties.
"But with the big bash in the new rights deal going back to 43 games, I would imagine that would be a lot easier to manage and a good idea."
However, Australian spin bowler Nathan Lyon defied further day-night testing beyond the annual game in Adelaide.
"God no," Lyon said on SEN. "You can play a day-night test match, like we're seeing in Adelaide, but I think there's only a certain number of places in the world where you can do that, to be honest. Adelaide has taken that to an absolute discount level. It is the best place to play day-night cricket. Here's the red ball and that's it."
Glenn McGrath supported the day-night test concept.
"I think a pink ball with the pink test all ties it together. I'd be happy with that," he said.
News, results and expert analysis from the sports weekend are sent out every Monday. Sign up for our sports newsletter.
https://www.smh.com.au/sport/cricket/scg-boss-calls-for-day-night-pink-ball-pink-test-after-farce-20230107-p5cazf.html?ref=rss&utm_medium=rss&utm_source=rss_sport SCG chief calls for day-night pink ball pink tests in Sydney after slight delay farce