Savea's "slit throat" gesture doesn't scare the Rebels, but the Hurricanes narrowly win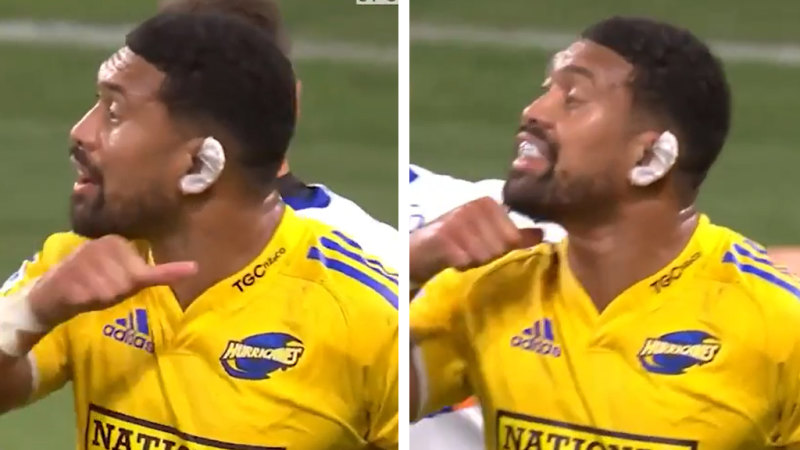 Rebels coach Kevin Foote praised his players for their struggle and said Savea's gesture helped inspire his group, who get a bonus point for the close finish.
Loading
"I just made it clear to our boys [at half-time] that they do not come into our house [and do that]' said Rebels coach Kevin Foote. "We will not tolerate that."
Savea has tormented the Rebels throughout his career and that night was no different as he scored two first-half tries and set up one for full-back Josh Moorby, but he was sacked just before half-time following a scuffle between the two sides with the yellow card.
After being shown his card, Savea appeared to take offense at something a Rebel player said and rubbed his throat with his thumb.
A Rebels player could be heard on the referee's mic saying: "He threatened to kill him," but no additional penalty was imposed on the former All-Blacks forward.
He returned to a mix of boos and cheers after 49 minutes, along with a quick speech from the referee, no doubt a warning not to follow through on his earlier gesture.
Melbourne fought back from 24-7 to get to a point with just minutes to go.
The Rebels got off to a dream start, forcing a try from captain Brad Wilkin after just three minutes after patient work by the home side near their line, but that was a lonely high point.
Melbourne closed the lead when winger Lachie Anderson used his speed to land a grubber kick from Carter Gordon in the 45th minute to make it 24-12.
The Hurricanes' disciplinary concerns continued as prop Tevita Mafileo and flanker Brayden Iose both showed yellow cards.
Mafileo's dangerous clean-out was reviewed and upgraded to a red card, ending his night.
Gordon ran 50 yards for a try in the 55th minute to make it 24-19 after a Hurricanes turnover. Savea showed his speed for a striker by nearly catching the Rebels' five-eighths.
The Hurricanes extended their lead again, but the Rebels fought on with flanker Richard Hardwick making it 36-24 with 12 minutes left.
Hardwick struck again to give Melbourne a chance, but Jordie Barrett ended a floating suspension in a narrower-than-expected win for his side.
On Friday night, the Crusaders clinched a 52-15 win over the Highlanders in an all-New Zealand opening game at AAMI Park, making seven tries to just two.
In Saturday's double header at AAMI Park, Moana Pacific meets the Chiefs at 5:05 p.m., followed by Fijian Drua, who takes on NSW Waratahs at 7:35 p.m. AEDT.
https://www.smh.com.au/sport/rugby-union/heat-of-the-moment-hurricane-savea-under-scrutiny-over-throat-slitting-gesture-20230302-p5cowz.html?ref=rss&utm_medium=rss&utm_source=rss_sport Savea's "slit throat" gesture doesn't scare the Rebels, but the Hurricanes narrowly win