Russia bombards Ukraine with missiles, damaging critical infrastructure
Kyiv: Russia rocketed Ukraine during the morning rush hour on Thursday, killing at least one person in Kyiv and damaging critical infrastructure in the Black Sea region of Odessa, officials said.
Crowds took cover in the capital's metro stations during a nationwide air alert, before Russia unleashed the latest in a series of airstrikes on the power grid since October that have led to widespread outages over the winter.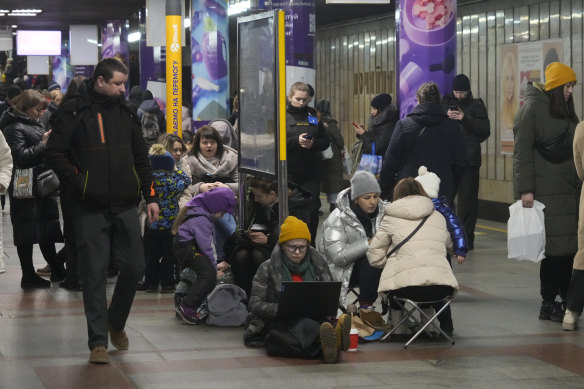 The missile strikes followed an overnight drone strike, a day after Ukraine received pledges to supply main battle tanks from Germany and the United States to upgrade its troops – a move that infuriated Russian officials.
Air force spokesman Yuri Ihnat said that six Tu-95 fighter jets took off from the Arctic region of Murmansk in northern Russia and fired long-range missiles.
He said he expected a salvo of more than 30 missiles and that air defense forces were trying to shoot them down.
Kiev authorities said their air defenses shot down all of the more than 15 Russian missiles fired at the capital, but the threat remains and residents should not leave their shelters.
Minutes later, loud explosions shook two districts of Kyiv. City officials said a 55-year-old man was killed and two others injured when non-residential buildings in the south of the city were hit.
Impacts were also reported in the central Vynnitsia region and elsewhere.
"There is already information about the damage to two critical energy infrastructure facilities in the Odessa region," the military administration of the Odessa region wrote on Telegram, adding that there were no casualties in these attacks.
https://www.smh.com.au/world/europe/russia-pounds-ukraine-with-missiles-damages-energy-infrastructure-20230126-p5cfse.html?ref=rss&utm_medium=rss&utm_source=rss_world Russia bombards Ukraine with missiles, damaging critical infrastructure