Rugby Australia will sign Wallaroos for the first time in a $2million funding boost
The Wallaroos received daily national service fees last year but the disparity between well-resourced nations and the rest at the Women's Rugby World Cup was striking. The Wallaroos, who mostly balance jobs and studies with nightly training sessions, made it to the quarter-finals well but lost to England, who eventually lost to New Zealand in the final.
The effort resulted in numerous calls for Rugby Australia to drastically increase its investment in women's rugby.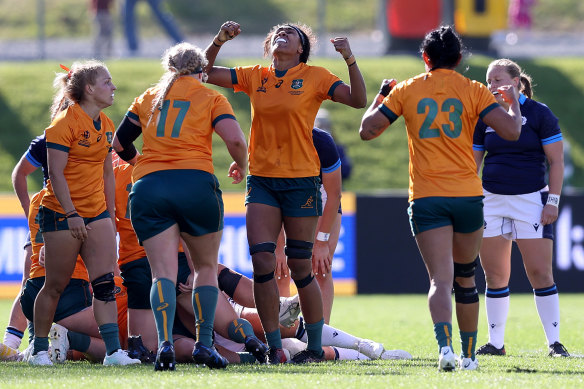 Chief Executive Andy Marinos has previously said 2025 is a target for full-time Wallaroos, ahead of the next World Cup and well ahead of Rugby World Cup 2029 on home soil.
"Australia, hosting the Women's Rugby World Cup in 2029, offers us a great goal for women's rugby – we want the Wallaroos to win our World Cup at home, with a fully professional squad of heroes to inspire the next generation" , Rugby Australia chairman Hamish McLennan said in a statement.
"We saw the amazing tenacity, determination and fighting spirit of this team when they reached the quarter-finals at last year's Rugby World Cup – it was a feat that will lay the foundation for the future of the Wallaroos.
"Rugby Australia has committed additional funds to women's rugby this year and is pushing hard for further investment and corporate support – and we are delighted to have the best rugby coach in the world in Eddie Jones, contributing to the Wallaroos in his advisory role .
"It's just the beginning but the future for women's rugby in Australia looks very bright."
England became the first team to offer full-time professional contracts in 2019 and they make between $39,000 and $58,000 a year playing for the Red Roses. Most also earn good money in the English Premier League.
Ahead of hosting the 2022 Rugby World Cup, New Zealand rugby announced it had signed 29 Black Ferns players with salaries reportedly ranging from $62,500 to $116,000.
Wales also employ a core of 10 players on $33,000 contracts and another 15 on $13,000 semi-professional contracts.
Rugby Australia has 12 women rugby players on full-time contracts in the successful Sevens program and more on part-time contracts with contracts ranging from a minimum of $44,000 to top players like Charlotte Caslick who earn over $120,000.
The new CBA struck between Rugby Australia, RUPA and Super W clubs also includes a parenting and pregnancy policy for XVs players, where they will continue to receive the full contract amount while on maternity leave. There will also be contributions to childcare for players with children up to the age of 12.
https://www.smh.com.au/sport/rugby-union/rugby-australia-to-contract-wallaroos-for-the-first-time-in-2m-funding-boost-20230210-p5cjle.html?ref=rss&utm_medium=rss&utm_source=rss_sport Rugby Australia will sign Wallaroos for the first time in a $2million funding boost