Rozelle WestConnex chimney angers local residents
But there is more to the structure than meets the eye. Artist and architect Chris Fox, who also designed the near-completed twisted steel and green foliage artwork for the three nearby smokestacks along the City West Link, says it was inspired by the geomorphology of the state's waterfalls – especially those in the Blue Mountains.
"The tectonic, modulated facade is reminiscent of a rocky monolith, a relic of the Sydney landscape," he says on his website. "The shape of the façade is reminiscent of an embankment, with the farmstead below giving way to an explosion of green space, while green wall modules populate the surface."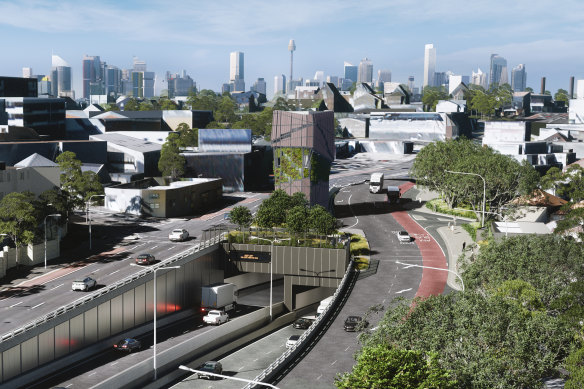 Fox says the sculpture "stands proud of the twists and turns of the surrounding road network and is a reminder of the forces of nature that still thrive in our cities."
When fully constructed, the structure will stand 22 meters above ground, extend 4.5 meters over the top of the tunnel portal below and run 14 meters down along Victoria Road.
Smithson admitted Fox's three smokestacks at the Rozelle Interchange turned out better than she expected. "Maybe I should just be nice and wait," she said.
Sydney-based architect Sam Crawford, who has designed public facilities from Bondi to Denham Court, said Iron Cove's chimney appears to have been more successful than Fox's other trio.
"I like the fact that it's not a single element, it's a broken shape," Crawford said. "Rather than just being a tower, it gives human scale to something that is quite massive. I know how difficult these things are and I think he did very well."
But Tone Wheeler, president and columnist of the Australian Architecture Association, said it was an attempt to put lipstick on a pig.
"It is a pathetic failure to commit to what could be a beautiful sculpture, such as the Harbor Bridge pylons, the lighthouses, the Gladesville Bridge, or a trefoil freeway," he said. "A complete nonsense of Hollywoodization, [a] fattening of what should be taller and leaner."
Architect and heritage consultant Matt Devine said transport projects have too often brought the artist on board too late, but this artwork "looks very interesting and will hopefully provide an intriguing structure that will soften the impact of the major road works".
Meanwhile, just yards from the proposed flue gas stack, the derelict and burnt-out site of the former Balmain Leagues Club is due to be demolished soon as the government no longer needs it as a landfill site for the Western Harbor Tunnel.
Developer Heworth is awaiting approval of amended plans for the site. Changes include reducing the number of one-bedroom apartments and adding more two- and three-bed apartments, which Heworth says reflects a post-pandemic penchant for guest rooms.
Loading
The changes must be approved by the Sydney North Planning Panel. Darcy Byrne, Mayor of Inner West, said: "We are very keen to see this dangerous eyesore torn down. This derelict site is a drain on Rozelle's economy and poses a continuing threat to public safety."
The mixed-use project will also house a new Wests Tigers club. Plans for the interior development were pre-submitted this month and show the club will include restaurants, a sports bar and a 'patio conservatory' – as well as 41 indoor slot machines and 32 outdoor slots.
With Julie Power
The Morning Edition newsletter is our guide to the day's most important and interesting stories, analysis and insights. Login here.