Royals visit the Church of Island Bend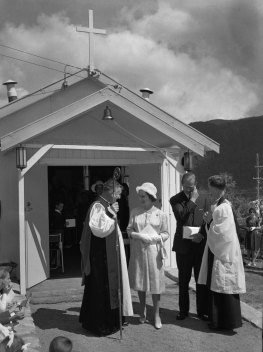 The Queen wore a pink silk dress and wicker cloak and hat of white lace straw lined with matching pink silk.
The day was sunny with a small cloud.
Chair for the Queen, Duke
The only decoration in the white interior was a maroon curtain behind the pulpit and two vases of flowers. The Queen and Duke sat in small armchairs, but the rest of the congregation sat in tubular steel chairs. The congregation received the Queen and Duke like all the other worshipers without staring or gaping.
When the Queen arrived, a brass gas bell hanging above the front door was rung five times. The bell, a World War I British Army souvenir, was presented to the church by an engineer from the Snowy Mountains.
The Minister for National Development, Sir William Spooner and Lady Spooner, the Commissioner for the Snowy Mountains Programme, Sir William Hudson and Lady Hudson, and the Project Manager for the Guthega region of the programme, Mr Boyd Paslon, attended the service .
Loading
Reverend Peter Rudge, who led the service, prayed for the royal family and for men who had lost their lives working on the Snowy.
The Duke read Lesson Two, the Parable of the Good Samaritan, and Sir William Hudson read Lesson One from Deuteronomy.
Sermon by Bishop Clements
The Bishop of Canberra and Goulburn, Bishop KJ Clements, delivered the homily. As the Queen and Duke left the church, Mrs. Clements and Mrs. Rudge, the churchwardens and their wives, and the organist were introduced. The Royal Party then drove back to the Visitor's Lodge at Island Bend for lunch.
https://www.smh.com.au/national/nsw/from-the-archives-1963-royals-visit-island-bend-church-20230223-p5cmwz.html?ref=rss&utm_medium=rss&utm_source=rss_national_nsw Royals visit the Church of Island Bend