Robin Boyd mid-century homes Boyd Baker House and Dower House for sale
Considered some of the most significant architectural designs of the post-war period, the houses were listed as a historical monument in 2007 after the Mitrakas made their case.
Loading
The couple later listed the properties for sale in 2014 and again in 2016, but decided against selling them as they wanted to keep them and preserve their architectural significance, Armstrong said.
"The sellers are quite passionate about owning the Boyd properties and want to find the right buyer," Armstrong said. "They have plans to restore an old property in Europe – one that's about 300 years old – and want to sell it."
Armstrong said Listed homes might draw mixed reactions from Melbourne buyers, but the Boyd homes had already had a "tsunami" of interest from people who loved their mid-century look.
"There's just so much appreciation for the house and the design," he said. "The moment we got listed online, it just went insane."
Even those not financially able to buy wanted to take a look, he said.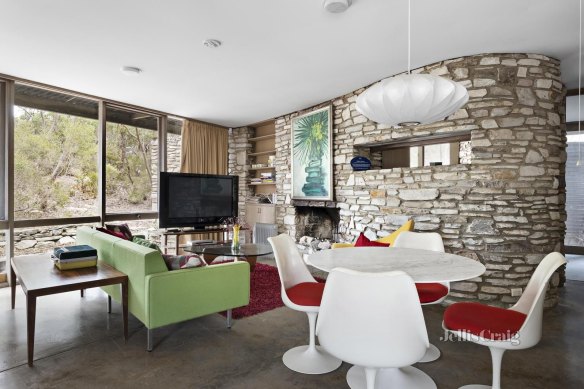 The homes are like stepping back in time, Armstrong said, as the Mitrakas family filled them with furniture from the 1960s.
"It's like an authentic walk in time," said Armstrong.
The prestigious estates have served as the backdrop for many bush weddings, with receptions held in the estate's stone-lined courtyards.
The houses are also listed on short-stay websites, where the Boyd Baker House charges $1400 per night. The Dower House is listed for $480 per night.
In recent years, historic homes have come up for sale in and around Bacchus Marsh. In 2019, the Manor House, one of Victoria's oldest houses, was listed for sale for $1.45-1.5 million. It was later withdrawn from sale.
In late 2020, the former Ballan Post Office, also a magnificent old Victorian house owned by the same family for 156 years, was put up for sale with hopes of raising $1.4 million. It was marked as sold online in May 2021 at an undisclosed price.
The Boyd-designed homes will be sold via expressions of interest ending Thursday April 13 at 5pm.
https://www.smh.com.au/property/news/mid-century-masterpieces-robin-boyd-time-warp-homes-hit-the-market-20230313-p5cro0.html?ref=rss&utm_medium=rss&utm_source=rss_property Robin Boyd mid-century homes Boyd Baker House and Dower House for sale