Robert's testimony is worthy of Yes Minister
Recent revelations from the robo-debt inquiry where ministers were inhibited from giving unwelcome advice ("Robert made false statements supporting robo-debt despite 'personal misgivings'" , March 3) makes the civil service run by Sir Arnold Robinson, Sir Humphrey Appleby and later by Sir Bernard Woolley look the acme of public administration. In Yes Minister world, ministers under the control of their departments were referred to as being "house-trained". Here it is the public servants who are house-trained. In Yes Minister world ministers could be fired, but not public servants, the cabinet secretary was a senior bureaucrat – the head of the civil service. Here, ministers can fire public servants if they tell them things they don't want to hear, and the cabinet secretary is a politician controlling the ministers. I know where I'd rather live. Nicholas Triggs, Katoomba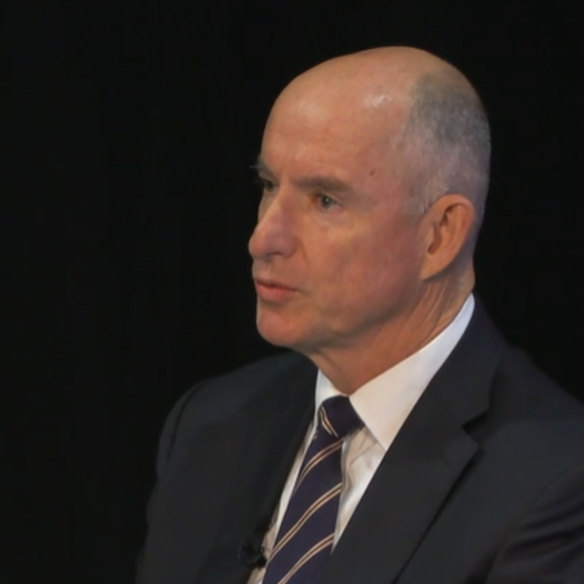 What we are witnessing in the United States is the rapid erosion of trust in elected representatives. This has shaken the foundation of American democracy. Enter former Coalition minister Stuart Robert, who has admitted that he lied to the Australian public, which may have indirectly cost people their lives. Robert's admission makes me worried that trust in Australia's leaders is heading down America's slippery slope. Mark Paskal, Austinmer
Stuart Robert tells us the Westminster system of government obliged him to lie about robo-debt. I hope those vulnerable people who received notices can take some comfort from the fact that the minister who sent them is, himself, a victim of "the system". Colin Stokes, Camperdown
Stuart Robert's excuse that he was just being a dutiful cabinet minister smacks of the Nuremberg "just-following-orders" defence, which was rejected by the judges. The question is: Did Stuart Robert forcefully oppose the illegal robo-debt program in cabinet, or was he complicit until it was finally clear to everyone that he had to pull the pin? Rob Firth, Red Hill (ACT)
Stuart Robert informed the royal commission that cabinet signed off the false statements he made regarding robo-debt. How many more false statements were signed off by the cabinet of the previous government? Peng Ee, Castle Cove
Fascinating evidence from Robert about his role in the robo-debt saga. "I was not informed by my department [throw department under bus] or if I was told, I was bound by the rules of cabinet solidarity, regardless of my beliefs". Matches Yes Minister. Ferdo Mathews, Robina (Qld)
Blasphemy isn't very naughty
A great deal of comedy involves irreverence or blasphemy ("It's official: blasphemy is no laughing matter", March 3), but that does not mean blasphemy, of itself, is funny. Years after the furore over Life of Brian had died down, John Cleese remarked that the Pythons' earlier drafts, depicting Jesus as a klutzy carpenter accidentally driving nails through his hands, were not funny, so they ditched them. David Ramsay, Bexley
Why must a secular society constantly pander to offence taken by those who believe in the unprovable supernatural in the form of theist religion? The idea of blasphemy is based on the existence of an unprovable god. If jokes about god and unfounded belief are out of bounds, then proselytising and promoting of religious beliefs should also be banned. Alynn Pratt, Grenfell
If Life of Brian was released today it would probably be banned, not because of any sacrilegious content but rather because a male actor, Terry Jones, portrays Brian's mother, and Stan (who now wants to identify as Loretta) is asked, "Where's the fetus going to gestate?" Blasphemy definitely still is a laughing matter, as proven by Ricky Gervais' perceptive definition: "Blasphemy: a law to protect an all-powerful, supernatural deity from getting its feelings hurt." Col Burns, Lugarno
When Life of Brian came out, one of my work colleagues, who professed deep religiousness, announced her profound offence. My husband, a man who spent several years in an Anglican monastery, replied with words to the effect of: if your religious faith is so tenuous that you are offended by what amounts to a bit of secular fun, it's your grasp on your faith you should be concerned about. Kerrie Holmes, Kensington
Shake it off
I agree with your correspondent (Letters, March 3) about bubbly. I've always thought spraying expensive champers over sports winners was such a waste. Surely this extravagance could be put to better use, like a donation to a charity? Celebrations don't need champagne, just a handshake or a hug. Denis Suttling, Newport Beach
Stamp of disapproval
Does Australia Post's obsession with profit ("Australia Post set for overhaul", March 2) mean that parking and speeding infringement notices won't arrive in my letterbox any more? Every cloud … Philip Bell, Bronte
If every government-owned services business is expected to either make a profit or at least be cost-neutral, why do we pay tax? Bill Young, Killcare Heights
No names
A "colourful identity" (Letters, March 3) is someone who would send the boys around for a quiet word if you used a more accurate description. David Howard, Bowral
Sound advice
I cannot support a sound shell being built in the Domain (Letters, March 3) because, as any Bugs Bunny cartoon watcher knows, they fall apart when a tenor is forced to hold a note for too long. Greg Phillipson, Aranda (ACT)
Why overspend on widening roads? Fill up cars instead
Rather than spending vast sums on building wider roads ("Options narrow for inner west roads", March 3), shouldn't we focus on reducing traffic by other means? It is obvious most cars are driven with at least 75 per cent spare passenger-carrying capacity. This inefficiency contributes to traffic congestion and CO2 emissions. Ride-sharing plans are positive developments but fares remain high and these services do not significantly reduce the number of cars on the road. If empty seats in cars could be filled, traffic congestion would be reduced and carbon emissions per passenger-kilometre would also drop. Less time in traffic means lower fuel consumption and increased productivity. Hitch-hiking and car-pooling are the "low-hanging fruits" of traffic reduction. Websites exist offering to link commuters, and these need to be expanded and promoted. Statistics in the US show hitch-hiking is generally safe. Details aside, we need to get back to the age-old practice of thumbing rides and sharing cars with our neighbours. John Kempler, Rose Bay
Champs-Elysees, where are you? Soon after moving to Petersham 30 years ago, I was delighted by a pencil sketch appearing in the Herald of a long, tree-lined boulevard (formerly Parramatta Road) dotted with cafes full of happy couples like us. A decade on and the moveable feast and sketch pad had shifted to William Street looking like an extension of Hyde Park. Fast-forward another 10 years to Treasurer Perrottet's Parisian vision of culture and cafes in Macquarie Street until finally we're back where we started where wheels keep turning. Lots of them. Peter Farmer, Northbridge
Bike ramp out of shot
Your correspondent (Letters, March 3) is exaggerating when she claims the proposed cycle ramp will "destroy the heritage of Bradfield Park and the bridge itself". The proposed cycle ramp is alongside the long road ramp (and below the parapet) leading up to the bridge proper. It is 350 metres away from the steel structure with its decorative pylons that get photographed every day. No one photographs the ramp. The cycle ramp starts on the edge of Bradfield Park and moves away from it to the north. Milsons Point station is more of an eyesore and visual distraction from the Harbour Bridge, so maybe the station should be removed if people are that concerned about looks. Making cyclists use the north-end steps is an embarrassment. John Whiteing, Willoughby
Residents have lost years arguing with Transport for NSW. The cyclists wouldn't wear it either. The community's fold-back ramp is a genuine attempt to promote active transport and accommodate the noisy bike lobby while retaining the heritage features of the locality, which are items of national significance. Truly a Win/Win outcome. Our campaign is nothing to do with NIMBY-ism. We are trying to protect our national heritage, which belongs to all of us. Ian Curdie, Lavender Bay
It is not the time from the bridge to the ground that is the main problem. The problem is anyone other than a very fit person pushing a bike up a dangerously steep ramp to the bridge deck. Being too young or too old or having an e-bike or a kiddie trailer or cargo bike is indeed a "bridge too far" with the current configuration. Tim Coen, Summer Hill
ScoMo not half-hearted
It seems ScoMo believed a leader should not do things by halves ("Morrison-era traffic fund allocated $3b to Liberal seats", March 3). Steve Ngeow, Chatswood
Housing for residents
Now that the government has acted on the misuse of self-funded superannuation (Letters, March 3), it's time it acted on the excessive use of negative gearing as a tax benefit. The primary purpose of housing is to give people a place to live, a basic necessity of life. What started as a reasonable form of investment has proliferated to the stage where housing stock that should be available for first home buyers is being taken off the market, forcing prices up. Negative gearing investors don't build houses, they use them. It's time governments took responsibility for providing housing for their citizens, not paying someone else to do it for them. Ian Adair, Hunters Hill
Greenwashing trickery
The corporate world is awash with greenwash. The rapid rise of green-tinged packaging in supermarkets is evidence enough of the huge "cozenage" that Elizabeth Knight describes ("Green betrayal: Consumers and investors being duped", March 3). Australians want to purchase from and invest in companies that are making climate-friendly changes. Unfortunately, tricky promotional material that misleads or obscures the truth is making it impossible. Excellent that Mercer Superannuation Australia is being held accountable.
Amy Hiller, Kew (Vic)
Big words of thanks
My wife and I thank the Herald for providing us with two previously unheard-of words: "myrmidons" (people who unquestioningly carry out their master's commands) and "empyreumatic" (the smell associated with burning animal matter). Hugh McGinley, Drummoyne
Return more artefacts
After two-and-a-half centuries, priceless Indigenous artefacts will be returned to their rightful owners ("Spears taken by James Cook to be returned to traditional owners", March 3). If only our state government could show the same level of respect to our Indigenous people by granting an interim heritage order to protect the property "Glenlee" at Lugarno, which is rich in Aboriginal history. Peter Mahoney, Oatley
Perhaps the Elgin Marbles will be next, but I wouldn't hold my breath. Tim Schroder, Gordon
Super tax hikes are far from our biggest problem
The Financial Services Council wants no change to super taxation because 80,000 affected now might be 500,000 in 50 years ("Industry forecast says tax could affect half a million", March 3). Leave aside what the population might be by 2073, leave aside that it might be indexed some time in the next five decades, maybe they'd be better to focus on bigger issues – like if the planet will still be liveable? Michael Berg, Randwick
So what if the super tax could one day hit six times the workers the government claims? Whether the reduced concessions affect 0.5 per cent of people or 3.1 per cent of people, it will still only affect the very well-off, and $3million is a lot of money. If at some stage (in the distant future) it needs to be raised, then we can look at it then. No doubt, the opposition will claim that this proves their point. But who do you trust? This government whose actions are consistent with their stated ideals? Or the opposition, who watched this mess grow over a decade and did nothing? David Rush, Lawson
But how will they survive on $2.99 million? Mustafa Erem, Terrigal
Postscript
The big Letters topic this week, by far, was superannuation – firstly the possible changes to it, then the changes announced during the week. Letters flooded in, and a selection of those not already published can be found in the new weekly online collection, Yours.Sincerely.
Overall, writers were considering these changes more in amusement than anger. The idea that a few people with millions of dollars in superannuation could be considered put upon and hard done by, having to pay a little more tax on the money, was considered risible at best, worthy of strong mockery at worst. Most writers welcomed the changes as a good way to spread the economy more evenly.
The week started strongly with many letters about Qantas and what most of the writers considered its many faults, especially since it moved into public hands. If only the management would listen to the Herald letter writers – as always, much trouble could be avoided with their sage advice.
Sports betting brought a lot of shouting, and writers are, generally, against it. They think it, as with all forms of wagering, steals money from people. The writers are particularly against online betting; it's too easy and a danger to children who see too many ads suggesting that betting is a cool and social thing to do. Many compared Big Betting with Big Tobacco, remembering the fight to remove smoking ads from sport.
Following from the reworking of Roald Dahl in the name of sensitivity, the news that the same thing could happen to the James Bond books brought howls of laughter. This moved on to other books that could do with some work – the Bible being the front-runner.
Harriet Veitch, acting letters editor
To submit a letter to The Sydney Morning Herald, email letters@smh.com.au. Click here for tips on how to submit letters.
The Opinion newsletter is a weekly wrap of views that will challenge, champion and inform. Sign up here.
https://www.smh.com.au/national/nsw/robert-s-testimony-is-worthy-of-yes-minister-20230303-p5cp3b.html?ref=rss&utm_medium=rss&utm_source=rss_national_nsw Robert's testimony is worthy of Yes Minister