Business
Review: We tried the crab flavored whiskey that went viral
Some crustacean-flavored bourbon, anyone?
It might sound like a mad distiller's idea of ​​a joke – keep that in mind SNL sketch about crazy hard seltzer? – but it's a real thing. More specifically, it's Crab Trapper, a green crab flavored whiskey from the adventurous Tamworth Distilling in New Hampshire.
And guess what? It actually delivers on its surly promise in a palatable way.
I had the whiskey last week while vacationing in the Granite State and visiting the distillery in the town of the same name – a quaint community nestled between mountain and lake shores. I knew Tamworth from previous samples of his venison flavored whiskey, aptly named Deerslayer, but when a staff member showed me the Crab Trapper I had to do a double take. Or to quote my reaction: "You must be (beeping) joking."
But I soon took my sampler to the distillery's riverfront and discovered the strange delights of crustacean-flavored bourbon. You're definitely getting a mouthful of crab here — Tamworth says his recipe calls for making a shellfish stock and then mixing that with his bourbon. However, the crab flavor is elegantly balanced by the sweetness of the whisky. There is also a lingering note of savory spice reminiscent of classic Old Bay spice.
All in all, it's like a messy old Maryland-style crab dinner, but in not so messy liquid form. Except in Maryland, you'll find blue crab, while Tamworth whiskey is made from green crab, an invasive species that has become a problem on the New England coast.
Unlike their blue brethren, green crabs don't provide a lot of meat, so there's no real market for them—at least as a main course—and thus no way to keep populations in check. Because of this, some bright minds, including a dedicated team at the University of New Hampshire who worked with Tamworth, are looking for other edible uses. Why no whiskey?
All of this adds up to a Heckuva story. So perhaps it's not surprising that Green Crab whiskey has become a viral sensation, with outlets up to 100% covered Food & Wine to CBS News. I get it: there's a shock factor here that's hard to ignore.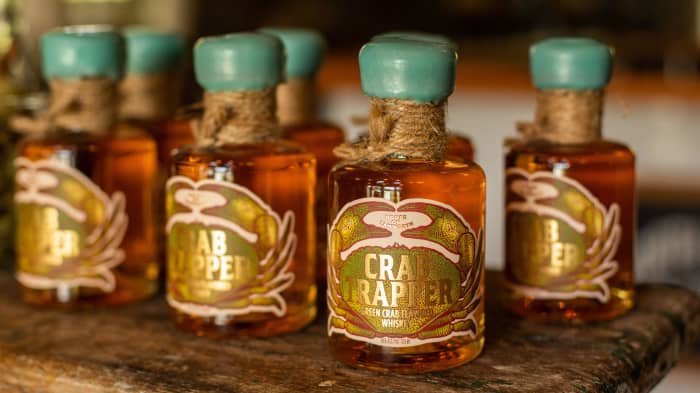 Still, it's important to give some context to the crustacean-flavored bourbon. For starters, it's not quite as new an idea as you might think, say those in the alcohol world. "Mezcal has been doing this for years," says Jared Bailey, a liquor expert and executive director of New York's Soho Cigar Bar. Bailey is referring to Pechuga, a type of Mexican liquor that can be flavored with chicken, duck, or maybe even a wild rabbit. (I tried a version a few years ago.)
In addition, there has been a lot of experimentation in the spirits industry in recent years. Think Scotch finished in specialty casks (or, for that matter, Tequila finished in Scotch casks). Or think of Orange flavored Irish whiskey. The reason why so many distillers are going this route? In part, they simply orient themselves to the food world, which has taken on new and unusual flavors. (How about a scoop of all-bagel-flavored ice cream?)
Distilleries are also paying attention to the competitive landscape — which means they know there's a lot of fighting for space on liquor store shelves. In the Scotch category alone, we've evolved from a small number of popular blended whiskeys – basically Johnnie Walker, Dewar's and a few others – into a single malt showroom. In this way, innovation becomes almost a means of survival. "It takes a lot to stand out from the crowd," says Noah Rothbaum, author of several books on spirits and CEO at Flaviar, an online membership club for spirits lovers.
Of course, innovation carries a risk. I mean, as much as I liked Tamworth's crab-flavored whiskey, I didn't think much of his venison-flavored liquor. (The main problem? I just didn't taste the meat.) And there are some products out there that strike me as commercial crapola. (In general, I'm suspicious of any whiskey seemingly designed to taste like a Jolly Rancher candy.)
That point is made by Mark Emil Hermansen, the chief executive officer of Empirical, a cutting-edge spirits brand specializing in what some call free drinks — that is, spirits that don't fit into any defined category (like whiskey, gin, vodka, etc.). etc.). As much as Empirical pushes the envelope — it recently released SOKA, a spirit made from sorghum cane juice — it also adheres to one firm rule, says Hermansen. "If you don't like it, it doesn't go anywhere," he explains.
Which brings us back to Crab Trapper. Matt Power, a distiller at Tamworth, says the sudden excitement surrounding the whiskey surprised him. Originally, the spirit was going to be a limited edition, but now he suspects otherwise. "My guess is that we're going to make a lot more than we expected," he says.
https://www.marketwatch.com/story/review-we-tried-the-crab-flavored-whiskey-thats-gone-viral-11656449582?rss=1&siteid=rss Review: We tried the crab flavored whiskey that went viral