Review of the tennis documentary with Nick Kyrgios
breakpoint ★★★½
Netflix, starting January 13
If ever there was a piece of footage that summed up Nick Kyrgios, it comes early in Netflix's new fly-on-the-wall documentary breakpointwhich follows the 2022 tennis season.
It's not finely crafted on-pitch action, but a home video recording of a nine-year-old Kyrgios dancing for the camera with a helmet on his head and a cape tied around his neck. He shakes and giggles, someone off camera laughs and then Kyrgios stops, smiles and fingers the camera.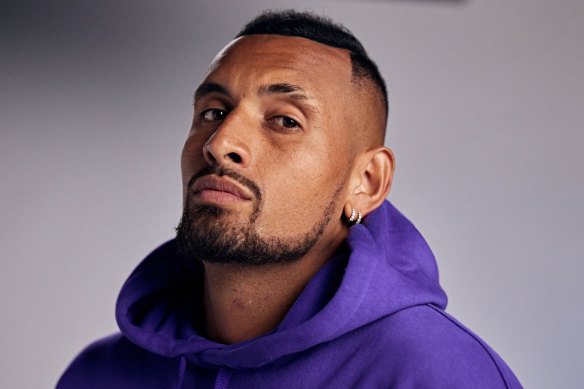 This little moment tells you everything you need to know about the man Netflix is ​​banking on to make big numbers in its latest sports documentary. To quote Monty Python, is Kyrgios really the Messiah or just a very naughty boy?
It's a question the series tries to answer in episode one, The outsider (sadly no mention of Goose) as it tries to use Kyrgios as a train card. breakpoint tries to repeat the success of the Formula 1 hit Drive to survive, which managed to turn a group of overpaid racers into must-watch TV. Heck, you even felt sorry for some of them as they crashed cars, hiked mountains, and contemplated the end of multimillion-dollar racing contracts in the privacy of their Norwegian sauna retreat.
However, Kyrgios is a different beast. These Formula 1 drivers aren't exactly the plus in personality – that's where the real appeal lies Drive to survive comes from the alpha canine team bosses (#totowolff4eva) – but Kyrgios is all personality and more. Of course he is aware tweet late last year: "Haha, so after all this, all the media, journalism saying how bad I am for the sport, disrespecting the game and just being a pure villain, I'm going to be the number 1 episode on Netflix… to our fanbase." basically trying to scale up, trying to put tennis back on the map."
He's right – that's what tennis is hoping for: a new generation of fans mesmerized by these young guns struggling to carve their place among the sport's greats. But what if this new generation isn't quite as captivating as its members think it is? Talented. Yes. Good looking and marketable? Yes. But are they Roger Federer or Rafael Nadal? nope Or even, gulp, Novak Djokovic? Luckily no.
And that's the main problem with breakpoint. Early on, producers said the big three on the men's side – Federer, Nadal and Djokovic – would not be there. And it's true, they're not. They aren't interviewed or tracked by Netflix, but they are haunted breakpoint like the Ghosts of Tennis Past. Forever on the margins to remind you of what's been lost while you ponder the future.
https://www.smh.com.au/culture/tv-and-radio/with-kyrgios-as-drawcard-absent-shadows-loom-large-in-netflix-s-break-point-20230105-p5cai1.html?ref=rss&utm_medium=rss&utm_source=rss_culture Review of the tennis documentary with Nick Kyrgios