Reusable Chatime cups are being dumped after KeepCup sues for trademark infringement
This is KeepCup's second lawsuit against a beverage chain for selling products that allegedly infringe its intellectual property. KeepCup sued coffee chain Gloria Jeans in 2017 for releasing a reusable cup with a similar design. The matter was eventually settled for an undisclosed amount, and the coffee chain now sells Gloria Jean-branded KeepCups on its website.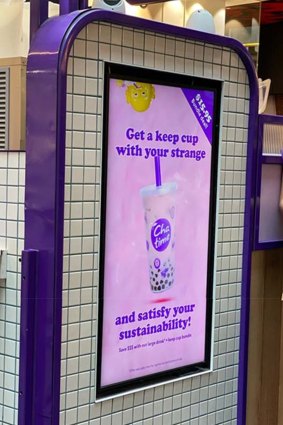 Forsyth said the company wanted Chatime to stop selling the offending products, receive financial compensation for profits on items sold, and legal costs.
"The outcome you are always looking for is that the infringing behavior stops, any benefit caused by that infringing behavior is compensated, and your costs of pursuing your rights are compensated."
She said KeepCup has driven such a "cultural shift" in consumer behavior that it has gradually become a metonym for the common habit of using a reusable cup like "Google" for internet searches, rather than referring to the branded item itself.
"It's become a word that people often don't know is a trademark because it's so tied to the behavior, not just the product, which is great. But that's one of the results of that," she said.
"They use our good name to generate profits and revenue. And the other thing is, if the product isn't a great product, they hurt our brand too."
Loading
The reusable mugs are no longer sold at Woolworths but are still available in some Chatime stores. The supermarket giant pulled about 500 chatime cups from shelves in early February after receiving instructions from the bubble tea chain to dispose of them. When contacted by this imprint, a number of Chatime employees across the country said the reusable cups were still for sale or had run out and would be restocked sometime next week. At the time of publication, Chatime's social media posts on the reusable cups remain online.
KeepCup is represented by Marque Lawyers while Chatime Australia is represented by Bird & Bird. Bird & Bird senior associate Tom Johnston said the bubble tea chain is trying to settle the matter out of court.
"We have been instructed that Chatime has always worked and will continue to work towards an amicable resolution of this matter. If a resolution is not reached, Chatime will vigorously defend the claim in all legal proceedings," Johnston said.
Chatime is a Taiwanese bubble tea franchise chain established in 2005. It has retail stores in Malaysia, China, India, Vietnam, Singapore, Hong Kong, Thailand and other Asian countries, as well as in Dubai, Canada, UK, Mexico and the US, and more than 160 stores in Australia.
According to ASIC records, Chatime Australia has four people listed as directors, three of whom live in Taiwan and one is based in Sydney.
The first court date for the case has been set for February 17 and will be heard by Judge Robert Cameron in Sydney.
The Business Briefing newsletter delivers important stories, exclusive coverage and expert opinions. Sign up to receive it every weekday morning.
https://www.smh.com.au/business/companies/chatime-reusable-cups-binned-after-keepcup-sues-for-trademark-infringement-20230207-p5cinm.html?ref=rss&utm_medium=rss&utm_source=rss_business Reusable Chatime cups are being dumped after KeepCup sues for trademark infringement