Rescuers search through rubble for survivors of train crash in Greece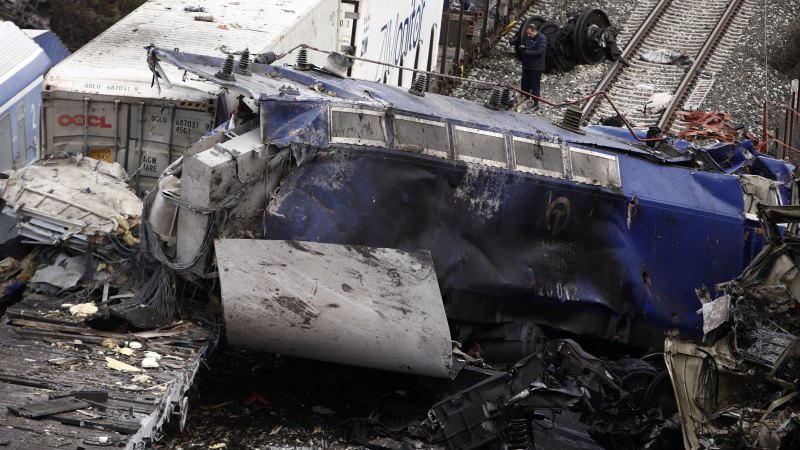 Greek Prime Minister Kyriakos Mitsotakis was scheduled to visit the scene later in the day.
Costas Agorastos, the regional governor of the Thessaly region, told Greek broadcaster Skai Television the two trains collided head-on at high speed.
"Cars one and two no longer exist, and the third derailed," he said.
The trains crashed just before the Valley of Tempe, a gorge separating the regions of Thessaly and Macedonia.
Survivors said the impact ejected several passengers through train car windows. They said others struggled to free themselves after the passenger train buckled and slammed into a field near the gorge, some 380 kilometers north of Athens.
"There were a lot of big pieces of steel," said Vassilis Polyzos, a local resident who said he was one of the first people at the scene. "The trains were completely destroyed, both passenger and freight trains."
He said dazed and disoriented people fled the rear carriages of the train when it arrived.
"People were obviously scared – very scared," he said. "They looked around, searched; They didn't know where they were."
According to Yannis Nitsas, the president of the Greek Railway Workers' Union, eight railway workers were among those killed in the crash, including the two drivers of the freight train and the two drivers of the passenger train.
The Hellenic Fire Brigade said 66 people were in hospital, including six in intensive care.
"The evacuation process is ongoing and is being carried out in very difficult conditions due to the severity of the collision between the two trains," said fire department spokesman Vassilis Varthakoyiannis.
More than 200 people who were unharmed or slightly injured in the accident were taken by bus to Thessaloniki, 130 kilometers north. Police took their names when they arrived to locate any missing persons.
The cause of the collision was not initially clear. Two railway officials were questioned by the police but had not been arrested.
A teenage survivor, who did not give reporters his name, said he felt heavy braking and saw sparks just before the crash — then suddenly stopped.
"Our wagon didn't derail, but the front ones did and were smashed," he said, visibly shaken.
He added that the first car caught fire and that he used a bag to smash the window of his car, the fourth, and escape.
Rail operator Hellenic Train said the northbound passenger train to Thessaloniki, Greece's second largest city, had about 350 passengers on board.
Hellenic Train is operated by the Italian FS Group, which operates rail services in several European countries.
AP
https://www.smh.com.au/world/europe/carriage-one-and-two-no-longer-exist-rescuers-search-debris-for-survivors-of-greece-rail-crash-20230301-p5copx.html?ref=rss&utm_medium=rss&utm_source=rss_world Rescuers search through rubble for survivors of train crash in Greece