Renters in Melbourne's CBD are bearing the brunt of record rent increases
**This was the case with CBD tenant Robinson Watt. He and his partner, Natasha Theocharous, received notification that their rent would increase by nearly $600 a month at the end of their first 12-month lease, an increase of about 33 percent.
They doubt that they can afford the new rent.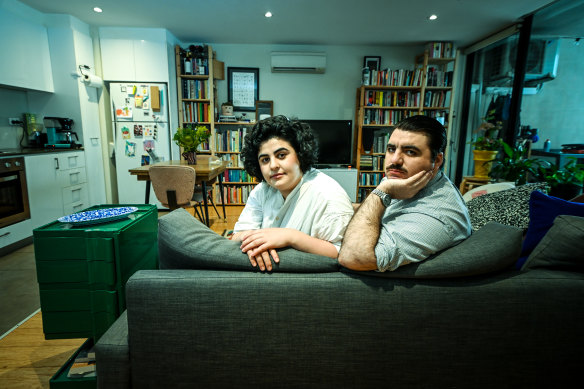 "It feels like we've only just set everything up," he said. "It's a new place for us and we're already considering moving on before we've settled there as our home.
"What we are giving up is the feeling of having roots and being somewhere permanent.
"It's a reminder that renting is unsafe wherever you live."
Watt said the COVID-depressed rental market has made him feel more financially independent.
"Everything before that was Share Houses. When we moved here, it really felt like we took a very big step; "Adults should finally live like this".
"Now we have a space where we can set it up however we want … but we were just reminded that 'no, this isn't yours, it's not your home and it can be taken away on a whim.' "
Harcourt Melbourne City director Dionne Wilson said rents are likely to continue to rise.
"We are still slightly behind pre-COVID numbers, which were at an all-time high. I think it will be in March when we catch up.
"As an office, our average rent before COVID was about $555 a week, and now we're at just under $500 a week."
Wilson said landlords are entitled to charge pre-COVID rents given rising demand from a nationwide change in lifestyle and the return of international migration.
"Although it looks like rents are going up rapidly, they're recovering," she said. "They haven't gone past their peak so far.
"They will peak, but they are recovering. It feels less spooky."
Residential rents also rose, but did not show a uniform trend. The biggest increase was in Blairgowrie on the Mornington Peninsula, up 20.8 percent to a asking rent of $640 a week.
The next major climbs were spread across the inner ring; Apartment rents in Southbank rose 20 percent to $480 a week, Canterbury rose 18.4 percent to $900 a week and Balaclava rose 17.8 percent to $678 a week.
Matthew Hassan, senior economist at Westpac, agreed that the return of migrants and international students to Australia was a key driver of rising rental demand, particularly in the inner suburbs.
Another emerging trend was that Australians were placing more emphasis on having a guest room or home of their own – like Watt and his partner – which was changing the look of the rental market, Hassan said.
"We've just come out of two years with no migration and quite a strong build-up in the broader metro markets in Sydney and Melbourne… and you would normally expect that to lead to some rebalancing between supply and demand, but it feels like like we couldn't and we re-entered a super tight market," he said.
Rising interest rates also put upward pressure on rents, he said, as some landlords raised asking prices to help with rising mortgage costs.
However, Hassan was still surprised by the speed at which inner-city housing markets had recovered.
"It surprises me… it felt like we just came from empty units in CBDs too suddenly [the market being as] solid as a drum."
https://www.smh.com.au/property/news/the-melbourne-suburbs-where-tenants-are-bearing-the-brunt-of-record-rent-rises-20230112-p5cc3x.html?ref=rss&utm_medium=rss&utm_source=rss_property Renters in Melbourne's CBD are bearing the brunt of record rent increases