Recycling fiasco must be a wake-up call for shoppers
In November, we realized that much of the soft plastic we sent to supermarkets for recycling — grocery bags, wrappers, food wrappers, and the like — wasn't being recycled at all. Instead of being made into street bollards, patio furniture, and rubberized sidewalks, as we had thought, it was simply shoved into giant warehouses and forgotten.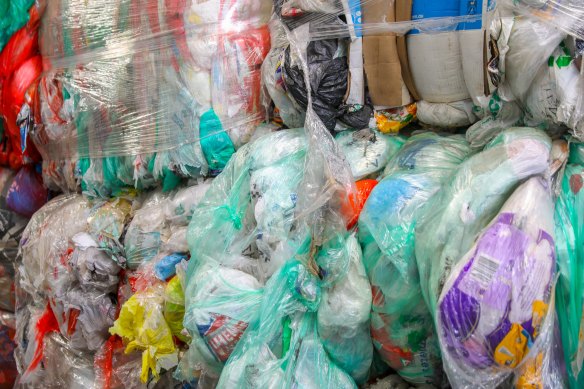 Environmental investigators have since uncovered at least 12,000 tons of the stuff in inventory in three states, enough to fill 1,000 semi-trucks. A lot, maybe everything, will end up in landfill. The NSW Environment Agency has already ordered over 5200 tonnes to be cleared from storage where it is considered a fire risk.
Clearly, the collapse of the scheme that so many Australians had diligently supported is a major setback in our efforts to do something about the massive amounts of plastic waste we generate every year.
Not only does this mean that thousands of tons of material are no longer being recycled, this failure has damaged our confidence in the entire waste management system. Why bother collecting, sorting and throwing everything in the right bin when it all just ends up in landfill anyway?
Loading
REDcycle, the Melbourne company primarily responsible for collecting the waste, has a lot to answer for, most notably its decision to continue collecting and storing plastics even after its third-party recyclers said they could no longer process them .
This is a wake up call. At the very least, this episode gave a vivid demonstration of how much soft plastic we use up and dispose of every month: huge heaps that are easy to measure in Olympic-size swimming pools. Once we sent it to China: out of sight, out of mind (China banned the import of recyclables in 2018). Now it threatens to overwhelm us.
According to ABS, of the 2.5 million tonnes of all plastic waste we generated in 2018-2019, only 9 percent was sent for recycling and much of that, as we know, would have ended up in landfill anyway. Households were the largest contributor, generating 1.2 million tonnes of plastic waste – nearly 50 kilograms for every Australian, or enough to fill 100,000 semi-trailers.
We have, or will have, the technology to handle at least some of it: $6 billion waste management group Cleanaway says it will make a decision later this year on a plan to collect 100,000 tons of soft plastics a year. Melbourne-based packaging company Amcor also recently announced plans for a new recycling facility.
https://www.smh.com.au/environment/sustainability/recycling-fiasco-must-be-a-wake-up-call-for-shoppers-20230205-p5ci16.html?ref=rss&utm_medium=rss&utm_source=rss_environment Recycling fiasco must be a wake-up call for shoppers