Rebel women gave up corsets to compete in the Olympics. One kept records
Australia almost missed making Olympic history 111 years ago because our first two female medalists, swimmers Mina Wylie and Fanny Durack, faced obstacles.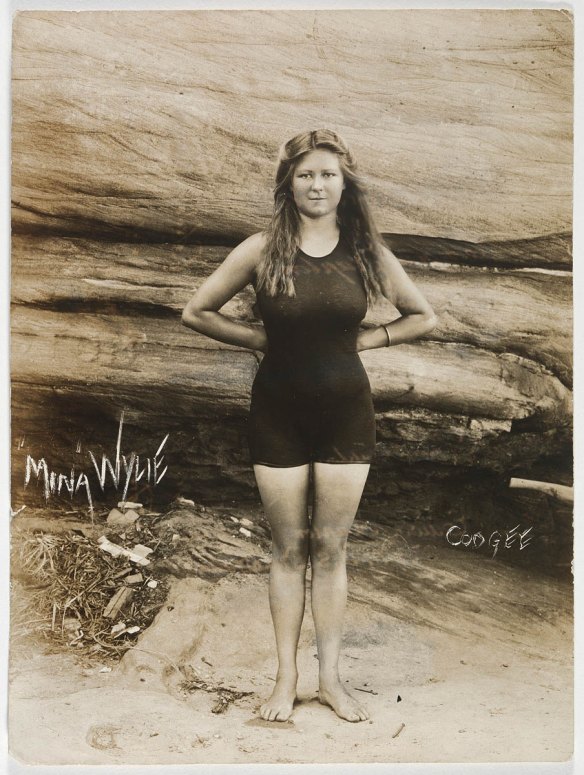 Boarding alone the ship that would take the Australian athletes to the 1912 Stockholm Games had been a challenge for Wylie and Durack because an archaic rule of the NSW Ladies' Amateur Swimming Association had barred women from being in the presence of men to take part in competitions.
After a public outcry that led to the dropping of that rule, officials claimed there was only enough money to send male athletes to Stockholm. The Australian public united behind a fundraiser to send the first two women to the games, where they won pool silver and gold respectively.
Looking for Mina Wyliesheds light on "those rebellious young women who gave up corsets and restrictive ruffles… and went head-to-head in ocean pools," says author Grace Barnes.
Barnes, a theater director and regular swimmer at Wylie's Baths, who has also written a PhD on early swimmers as an emblem of early Australian feminism, used a vast archive unearthed beneath Wylie's family home as the basis for her book.
For decades, Wylie hoarded everything from every swimming competition she competed in – from Stockholm to Sydney – as one of the nation's first female sports stars and one of the greatest swimmers Australia has produced.
Programs, posters, autographs, medals, newspaper clippings and photographs, which she methodically packed into 13 individual boxes in an airtight metal crate and placed under her family home in Neptune Street, Coogee. She locked it with a key which she kept and didn't tell anyone.
The swimming champion, who trained with her rival Durack in the pool Wylie's father Henry built into the Coogee rocks in 1907, won 115 state and national titles between 1906 and 1934 and held world records in the freestyle, breaststroke and backstroke.
When she moved into a nursing home in Sydney after 42 years of swimming lessons at Presbyterian Ladies' College, Pymble, she did not even tell her family, friends or colleagues of the existence of these records.
When she died in 1984 at the age of 93, the secrets of the unmarried but cosmopolitan Wylie could have been buried with her in Randwick Cemetery. But for Meredith Clark, who bought the house that had been Wylie's home for over 50 years, broke the chest open and donated this treasure trove of swimming history to the Mitchell Library of the State Library of NSW.
It is this archive, little touched upon since 1986, that forms the basis of Barnes' book, published by UK's Austin Macauley Publishers.
It offers a fuller picture of the woman who swam against the current of Victorian virtues and plunged into the pool to compete in the new international sport of swimming at the 1912 Stockholm Olympics. There are handwritten letters from adoring fans addressed simply to "Mina Wylie, Coogee" postcards and diaries detailing the struggles facing athletic women of their day.
Thanks to her cunning and eye for history, Wylie is not only becoming a feminist icon, but also the first archivist of Australian competitive swimming.
"Women's sport was dismissed as abominable or trivial, hence few visual or written records of women's sporting achievements were kept," Barnes said.
"This makes Mina's treasure trove valuable beyond the personal, as she fills a tiny corner of the gaping space where early female athletes were meant to be," says Barnes.
Sixty years after the Australian public sent Wylie to Stockholm, the nation rallied again in 1975 when she was elected to the International Swimming Hall of Fame in Florida.
When the Whitlam government refused to pay her air fare, as they had done for Dawn Fraser a few years earlier, a public fund was set up by the Whitlam Sun Herald And Sydney Morning Herald to collect money for the forgotten champion to go to the ceremony.
Loading
It was the UN's International Women's Year and Australians were still celebrating the achievements of another young female swimming sensation, five-time 1972 Olympic medalist Shane Gould, as the public embraced her again and sent her to "take her place among the greats of international swimming." ".
A sculpture of her by Eileen Slarke is in Coogee's Wylie's Baths, but Barnes wants Wylie's legacy to "prove that swimming is a sport where women can prove they are just as good, if not better, than men".
"The fact that Mina Wylie is remembered at all in contemporary culture is remarkable given the paucity of records of women's swimming events in the early days of competition and the male bias in sporting history," says Barnes.
A cultural guide to going out and making love in the city. Sign up for our Culture Fix newsletter here.
https://www.smh.com.au/culture/books/rebel-women-abandoned-corsets-to-race-in-the-olympics-one-kept-a-record-20230303-p5cp9r.html?ref=rss&utm_medium=rss&utm_source=rss_culture Rebel women gave up corsets to compete in the Olympics. One kept records