World
Real estate developer plans revitalization of Freo's historic Elders Wool Stores building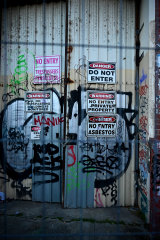 "This is on the scale to completely transform this end of town… like most of these heritage projects, we want to try to get people back into the buildings, including the public."
The lot offers more than 20,000 square feet of space for the developers, who believe they will have a range of living options from studios to townhouses, without necessarily adding to the existing shell.
The lower levels are more retail and hospitality offerings, with part of the design challenge being to connect the ground floor to the surrounding landscape and Victoria Quay and allow for public interaction.
"It's pretty hard… just assuming we can shove things into the building," Jeavons said.
"So I think like most of our heritage projects, we're going to try to let the buildings tell us what can fit in them."
The vacant building's facade is popular with graffiti artists and flyers advertising upcoming gigs, while skateboarders also use long, low-lying ledges for grinding.
The Company intends to conduct a community consultation on expectations for future development.
Hesperia brought in Griffiths Architects as specialist consultants to provide conservation advice for the project.
The developer has a track record of bringing heritage buildings back to life with projects such as the State Buildings in Perth CBD, Victoria House, The Rechabite in Northbridge, Coogee Common, Boans Warehouse and the ABN Building in Leederville to bring to life.
Loading
A conversion of the Elders Wool Stores is taking place as the neighboring Woolstores shopping center undergoes ongoing redevelopment and after Match moved apartments into the Dalgety Wool Stores building.
Fremantle Deputy Mayor Frank Mofflin said it was a source of frustration for everyone that an important part of the city's history had gone dormant for decades.
"We're pleased to see some movement on this site," he said.
"The Elders Wool Stores is a significant historic building for Fremantle in a very prominent location.
"We're excited about what Hesperia has planned and we look forward to working with them to bring one of our most important historic buildings back to life."
Follow WAtoday on Instagram, LinkedIn, Facebook and Twitter for a handpicked selection of the most important local, national and international news of the day.
https://www.smh.com.au/national/western-australia/property-developer-eyes-revitalisation-of-freo-s-historic-elders-wool-stores-building-20220712-p5b10g.html?ref=rss&utm_medium=rss&utm_source=rss_national Real estate developer plans revitalization of Freo's historic Elders Wool Stores building