Rawiller lifts Lindermann to victory in Guineas
"It was a tough effort. He fought well," he said.
Lindermann and Pericles pulled away from the rest of the field by the 300-yard mark, with Williamsburg ($12) three lengths away topping the pack.
It's likely that Lindermann and Pericles will both head to the Doncaster.
"I think he would have a better chance of returning to a Doncaster; It's good to have options," Waller said. "It used to be three weeks between the Guineas and Doncaster but he's got two weeks to prepare for that and he doesn't have to do much until then."
Rawiller agreed with Waller's assessment.
"I don't think he's a Derby horse, but he's a stuck Rosehill Guineas horse. I would imagine he'll be in the Cox Plate in the spring," he said. "I would hate to think he's going to the derby because he doesn't deserve it. He is a fast, real miler, a strong 2000m horse."
Dubai Honor romp gives Haggas fourth Australian Group 1
Newmarket manager William Haggas continued his tour de force in Australia as the Dubai Honor outclassed their Ranvet Stakes rivals at Rosehill on Saturday and will now turn his attention to Anamoe in next month's Queen Elizabeth Stakes.
Haggas now has seven Sydney wins and four Group 1 wins since coming Down Under in 2020.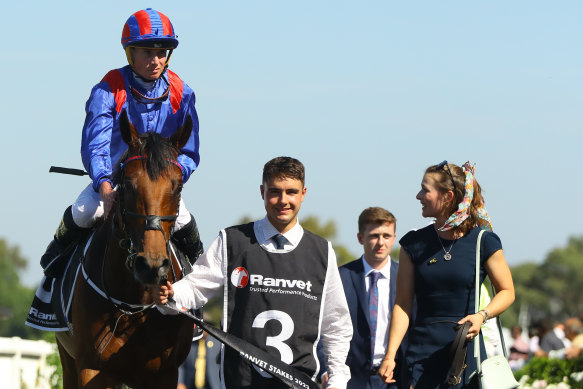 Dubai Honor will follow in Addeybb's footsteps and his Ranvet success would suggest he is better than the two-time Queen Elizabeth Stakes winner.
Jockey Champion Ryan Moore camped Dubai Honor ($5.50) behind the leader on a long rein in the Group 1 2000m and when he cleared up the straight he raced for a 4½-long victory from Montefilia (4th place). $.60) of it. with Mo'unga ($2.90 fav) another length away.
"He was in very good form as a three-year-old and last year things didn't go the way he wanted and William made him a gelding," Moore said. "William's horses, when they come down here, usually perform very well.
"He really was a step above them," the class said. He took them well, the race was dead to run 300m. Very good performance and I am very happy with him."
Concerned about the hot Sydney weather and a fixed Rosehill track, Haggas only decided to run after the club told him the ground was about to give out.
"I was very worried about the track," said Haggas. "But they assured me the track is on the fifth side of a good 4 and Chris Waller told me the track was fantastic.
"So we decided to play and run and that was a great result."
Strong gin martini looks towards the cup
John Sargent believes the best of Gin Martini will come when she competes in the journey, having just been too tough for her rivals in the Epona Stakes.
The staying mare won the Sandown Cup 3200m last spring and Sargent is looking to that distance for the Sydney Cup after winning the Group 3 race in the 1900m uncovered triple.
"We're going to go to the Chairman's Handicap, where she won't have any weight, and then to the Sydney Cup," Sargent said. "She's tough, but she's also strong, and although she didn't have cover there, she was very good."
Gin Martini ($9.50) rode forward midway through the course, holding off Long Neck Thalassophile ($4 fav), while Douceur ($19) was three-quarters of a length away in third.
"The speed was just a little strong for me at the beginning and when it stabilized I was three way behind," said jockey Damian Lane. "I was able to get into the race a bit and I think that was the key factor with a horse that can cover more ground and has good stamina.
"I was able to use her through those midsections and she put on a good run."
Import targets the Sydney Cup
Chris Waller is hoping for a big Sydney Cup penalty for Timour after he won the Group 3 Manion Cup (2400m) with a late jump yesterday at Rosehill.
The OTI stayer ran the 4000m at Royal Ascot and the low-rated import only gets better over the 3200m Sydney Cup distance.
"He's a real shot at the Sydney Cup," said Waller. "He'll only get better the further they go and he'll go straight to the Sydney Cup."
Timour grabbed leader Sir Lucan in the shadow of the post and had an advantage on the fast finishing Raging Bull. There was a short half head for Raging Bull and a nose for Sir Lucan.
https://www.smh.com.au/sport/racing/nash-at-his-best-rawiller-lifts-lindermann-to-victory-in-guineas-20230318-p5ct87.html?ref=rss&utm_medium=rss&utm_source=rss_sport Rawiller lifts Lindermann to victory in Guineas