Rating of Sting in Melbourne
MUSIC
Stitch ★★★★
Rod Laver Arena, February 23
It's easy to be cynical about Sting.
As the frontman of The Police, he was one of the coolest exports of British New Wave. As a solo artist, he became the epitome of a unique cringe brand. His strident human rights activism, his startling acting role (and an even more startling metallic codpiece in the original dune), his enthusiasm for tantric sex — while still giving off his piercing, earnest soft rock — made him an easy target for ridicule.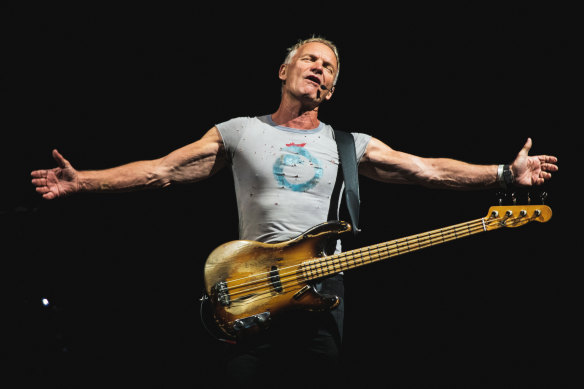 And yet Sting beats. This tour is called My Songs and shows decades of songcrafting. Some of these songs are among pop's greatest. Some are not; but that's hardly the point of the night.
The set opens with message in a bottlethen slipped into the radio clip Englishman in New Yorkbefore a delightful up-tempo piece by Every little thing she does is magical. A bravura opening – including a drum pan/call and response section along the way English people that just felt a little mega-churchy – had the audience (politely) dancing in the aisle. It was hard to spot anyone in the crowd who didn't know every line, a fact Sting acknowledged and thanked everyone for singing along before, somewhat apologetically, beginning new material.
Regardless, the crowd dutifully took their seats for a few down-tempo selections The bridge (2021) and then hit the road again for an invigorating version of So lonelywhich transitioned into a cover of No Woman Do not Cry.
Loading
For nearly two hours, Sting's vocals never got tired. The plaintive thirst of goldfields, the rasp in Roxannethe Arabic-language introduction to desert rose originally sung by Cheb Mami – Sting nailed them all. Occasional vocal dropouts were smoothed over by carefully backing backing vocalists, who also delivered virtuosic R&B and gospel singing shows.
https://www.smh.com.au/culture/music/sting-came-to-melbourne-and-had-everyone-dancing-politely-in-the-aisles-20230223-p5cn4b.html?ref=rss&utm_medium=rss&utm_source=rss_culture Rating of Sting in Melbourne