Rainy round two – Boston News, Weather, Sports
Today was the second round of torrential rain…good for some of us. Seems like the same areas got the "Feast" in "Feast or Famine" yesterday and today, and that was mostly throughout the Southeast mass. These are yesterday's rainfall numbers: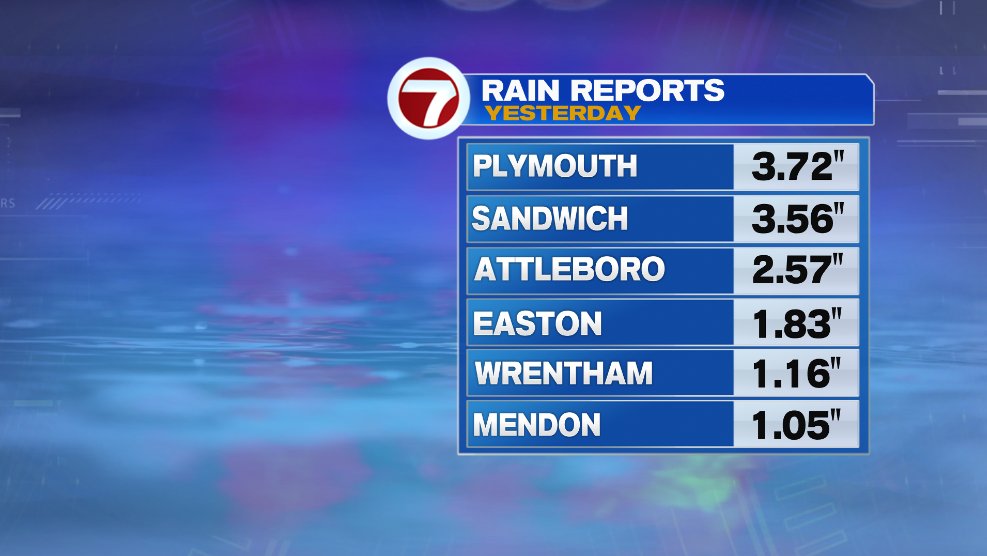 While it rained heavily in both Plymouth and Bristol Counties yesterday, the jackpot was Plymouth County. Today is the opposite. Southeastern Mass takes the pie for highest rain totals, but the jackpot goes to Bristol County. In fact, Dighton saw over 7″ of rain in just 3 hours (2-5pm)! This is a confirmed report from the National Weather Service.
These numbers are as of the writing of this blog (5pm) and it's still raining so many cities are probably above if you read later in the evening. Radar estimates from this afternoon show many cities with 1-3″ of rain today. Radar estimates use the radar data (how heavy the rain was and how long it lasted over a given area) to determine how much rain is estimated to have fallen.
The drought monitor is out on Thursdays, so it's still from last week, but luckily with the rain yesterday and today we'll see some improvement in Southeast Massachusetts, but we still have a long way to go. In fact, the drought monitor updates cut-off time is Tuesday morning, so today's rain will have to wait until NEXT WEEK's update.
Tomorrow we will dry out. For most of us there will be partly cloudy skies. There is a possibility of a shower moving across the Route 2 corridor and areas north of it into southern New Hampshire, but they won't be downpours like today and will be incredibly isolated.
https://whdh.com/weather-blog/rain-round-two/ Rainy round two – Boston News, Weather, Sports