Race to prepare new Victorian schools down to the last detail for the first term
On the outskirts of Greenvale, where some of the roads are still unpaved, is a school so new it's not even officially a school.
The race to open Mary Queen of Heaven Primary School in time for the start of the first semester of 2023 has been so tight that the school has not yet registered with the state government's Board of Education.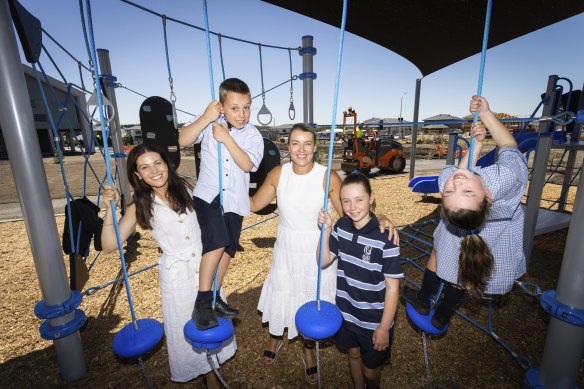 Construction delays, shortages of materials and even Melbourne's soggy winter and spring conspired to push the new school's opening back to Monday February 6, a week later than the intended start date of the first semester, principal Renae Gentile said.
When it opens, the school will welcome 109 new students from the multicultural communities of Melbourne's far north.
"In terms of our cultures, we have a wonderful diversity of diversity: we have Nepali children, Sri Lankan, Indian, some African families, some third-generation Italian and Greek families, and of course Australian families," Gentile said.
And although Mary Queen of Heaven is a Catholic school, its inaugural cohort also includes children of Sikh, Hindu, and Islamic faiths.
Mary Queen of Heaven is one of 15 new schools – and the only non-government school – opening in 2023.
All but two of the group will open in growing suburbs, including four new primary schools in Wyndham, two in Whittlesea and one each in Melton, Cranbourne and Officer; new secondary schools in Mickleham and Wollert; and a technical school in Craigieburn.
https://www.smh.com.au/national/victoria/race-to-get-new-schools-ready-for-term-one-down-to-the-wire-20230125-p5cfbd.html?ref=rss&utm_medium=rss&utm_source=rss_national Race to prepare new Victorian schools down to the last detail for the first term