Queensland commuters set post-COVID record as smart ticketing trial expands
"Our priority now is to continue to encourage public transit use and sustain that growth by planning for a reliable, safe and accessible Queensland passenger transit system statewide.
"From the numbers we can see that the Gold Coast light rail continues to perform strongly, with customers returning to the 'G' at higher rates than other modes of transportation."
Passenger numbers on the G:Link light rail network have reached 94.5 percent of pre-pandemic levels.
"It's been a challenging time for everyone and we recognize that the way they travel has changed," Bailey said.
"Nevertheless, Translink continues to adapt to the public transport needs of people in Queensland.
"It's important to remember that COVID-19 remains prevalent in the community and wearing a mask on public transport is critical protection against it."
Bailey said he expects the new Cross River Rail stations – on Albert Street in the CBD, Woolloongabba, Boggo Road and the Exhibition Center – would help attract commuters.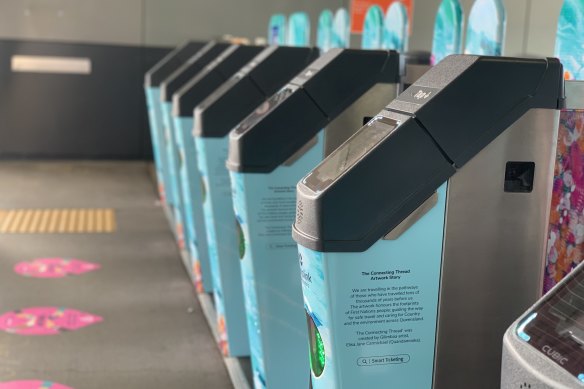 "New CBD stations and a station on Gabba's doorstep will open up the transport network to so many new people who may not have had a station close by," he said.
"We're not just building Cross River Rail, we're building a new network."
Meanwhile, the government's $371 million smart ticketing trial, which will allow commuters to use credit/debit cards, smartphones and smartwatches to pay for their fares, will be rolled out to the Ipswich/Rosewood and Springfield lines from Monday extended.
Loading
It happened almost three months after the Ferny Grove line was brought into the process.
The new system was well behind schedule, given a four-year timeframe when it was announced in 2018. Then the Go Card operator Cubic was awarded the contract after a tendering process.
"The system will allow commuters to tap into buses, trains, trams and Translink-powered ferries using contactless debit and credit cards, smartphones and smartwatches," Bailey said.
Once implemented, the smart ticketing system will allow Queensland commuters to get rid of their Go Cards, while interstate or overseas tourists no longer need to search for kiosks, advice or ticket offices.
Concession cardholders must continue to use their Go Card until the full system is rolled out. The ticket price remains the same.
https://www.smh.com.au/national/queensland/queensland-commuters-set-post-covid-record-as-smart-ticketing-trial-expands-20220821-p5bbh2.html?ref=rss&utm_medium=rss&utm_source=rss_national Queensland commuters set post-COVID record as smart ticketing trial expands