Qantas Pride Flight as it is on board
Los Angeles, 7:39 a.m.: The people you see wandering around the lounge! I have a quick chat with singer-songwriter G Flip, who is performing at WorldPride here and next week.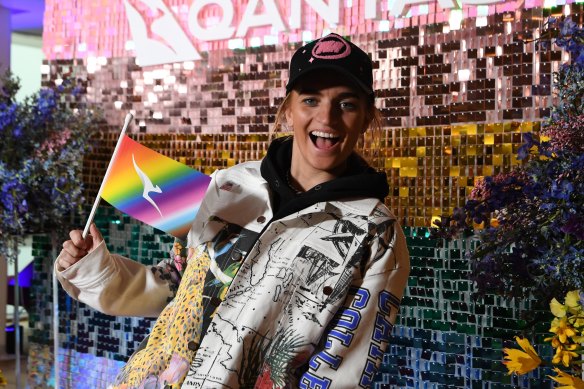 "It's WorldPride, it's like the FIFA World Cup of Queer Energy, so it's the big event and it's happening in my country," says the Melbourne native.
"A big part of my project as G Flip is to be the role model that I never had growing up.
"As a kid, I was so confused about my gender identity and my sexual identity, and I think it has to do with the fact that there weren't any characters or role models in the media, whether it's TV, radio, music, or even queer storylines acted. nonexistent…so a lot of it fills this gap that I never had," says G Flip.
Los Angeles, 8:09 am: I meet Justine Goldon and her partner Sam, who describe the trip as their "trans liberation flight". Justine is also celebrating her 32nd birthday mid-air!
"We've been wanting to go to WorldPride for a while… and to be honest, what really got me was the kangaroo pyjamas," says Justine.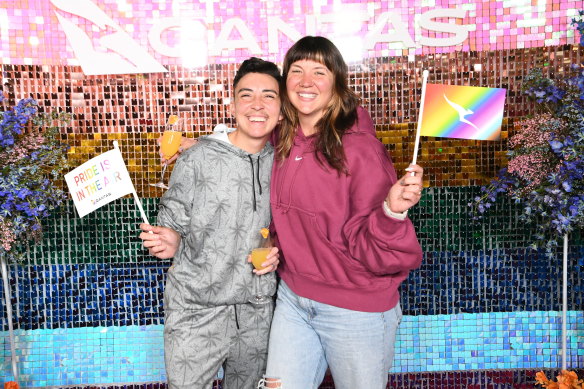 "We really love how Sydney WorldPride focuses on Aboriginal and First Nations people in a lot of their plays, work and events, so we're going to be doing a lot of cultural stuff there."
Solo traveler Gregory Giza, a nurse from San Francisco, ticked two items off the bucket list by attending WorldPride and traveling to Australia.
"I love to travel and as travel has been stifled for the past two years with COVID-19 and all, this will be my first major trip."
"I've been to several WorldPrides in the United States, but this will be my first international one."
Los Angeles, 8:37 a.m.: Our host is not your regular flight attendant. Comedian and self-confessed aviation nerd Joel Creasey looks ready to burst with excitement.
"I don't think I've ever responded faster to a gig. I love planes," says Creasey.
"I'm happy when people see how beautiful the LGBTQI community is around the world. We're all so different, we're often stereotyped and stereotyped, and yes, sometimes those hilarious stereotypes are true and it's our own fault, but I think it will really open people's eyes to what an even more magical one world we have. "
LA, 9:30 a.m.: Please welcome Hugh Sheridan to the stage!
There was more than a few American whispers of "Who is that?" but an enthusiastic rendition of it I still call Australia home followed by Love is in the air, and they don't care.
G Flip takes the stage next, and if Sheridan's performance is the party set that gets everyone excited, G Flips is the soulful reflection of what pride is really about. She sings about family, heartbreak and coming out. Friends and partners hold hands and cross arms. For many in the room, the lyrics of confusion and anguish are something they know all too well alongside the feelings of release and love.
LA, 10:45 am: Everyone puts on their rainbow pajamas and I'm reunited with Qantana, Vybe and Felicity Frockaccino. Just before undressing, one or two of the queens swapped heels for flats, and honestly, I'm relieved. I could barely get through my 10th grade in heels, let alone turbulence.
Somewhere over the Pacific, 1:21 p.m.: Anyone who thought of watching Babylon or triangle of sadness (not a movie to watch in a confined space anyway) are kidding themselves. This is the Hugh Sheridan Show, a show that my American friends are now familiar with, similar to this one YMCAwhile Sheridan, the cabin crew and Queens dance their way up the aisle.
40,000 feet above somewhere just beyond Hawaii, 4:35 p.m.: What's better than booking a Pride flight to Sydney? Accidentally booked a Pride flight to Sydney.
Martin Kratz, from NSW's Hunter Valley, was in the middle of the Costa Rican jungle when he booked his LAX-SYD flight and he may have missed the (several) notes that it was a Pride flight.
"I booked this flight from Montezuma… when I checked in they gave me the Pride luggage tag and said there was something going on in the lounge. I rocked and it was a party vibe."
Still over the Pacific, 4:45 p.m.: We get skin care and makeup packages. I use the makeup wipe, apply eye cream followed by a jelly mask and we're ready for a nap.
40,000 ft above Central Pacific Basin, 8:30 p.m.: Time for a drag queen check-in. What's it like going full throttle for 15 hours, I ask Felicity Frockaccino. "Wait for the light to come on," she says.
40,000 feet over Port-Vila, 11:30 p.m.: Wakey Wakey to those who slept. Not me. It's time for part two of our makeup tutorials. Eye shadow and lip gloss to prepare us for the last hours of our journey.
Arrive Sydney 1:30am (LA time): After 15 hours of pink fizz it's almost time for us to land. I've been awake for 21 hours now and the fatigue is hitting.
Arrived in Sydney at 2.44am (LA time): There's a DJ at the airport, an ice cream stand and goodie bags including another hat (it says SYD on it this time), some Oreos and of course the Bible…which in this case is a comprehensive WorldPride information booklet.
Everyone on the plane will receive a free ticket to the WorldPride Opening Concert tonight. Kylie Minogue here we come!
This reporter traveled on the Pride Flight courtesy of Qantas.
https://www.smh.com.au/culture/celebrity/the-fifa-world-cup-of-queer-energy-inbound-to-sydney-worldpride-20230222-p5cmg7.html?ref=rss&utm_medium=rss&utm_source=rss_culture Qantas Pride Flight as it is on board