Pyrmont residents oppose plans for 24-hour drilling on the new line
The NSW Department of Planning and Environment approved the changes last week.
Boakes, whose patio was built at 1880 Pyrmont Street, said moving the crossover den under the densely populated suburb was "a massive decision made for reasons that aren't very clear."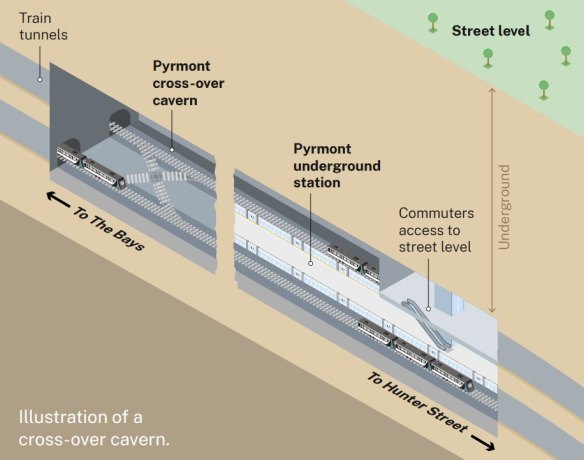 "Instead of drilling two tunnels nearly 40 meters below our house, it will be a giant transitional cavern with a roof about 23 meters below our house," Boakes said. He had also hoped that residents living above the site would get some respite from the construction noise over the weekend.
The Sydney Metro said in planning documents that limiting some tunneling work to the day would result in a "significant" delay in the railway project and the planned opening of the line to passengers.
A recent project update said it would take crews approximately five months to excavate the Pyrmont Crossover Cavern, which will be 148 meters long and 24 meters wide.
Loading
"People in buildings above may experience ground noise and vibration as tunneling takes place directly below or on either side, which would take around six to 12 weeks of that period," the update said.
A Sydney Metro spokeswoman said enabling excavation 24 hours a day, seven days a week is consistent with all recent tunneling projects in the city, including other phases of Sydney Metro West.
The location of the Transition Cavern in Pyrmont would provide a "more convenient disembarkation location for customers in the event of a disruption and improve future operational efficiencies."
"The construction work will be carried out within the permit conditions issued by the Ministry of Planning and Environment and specific measures to deal with traffic, noise, vibration and dust will be implemented. This includes regular monitoring and the installation of construction fences and acoustically sealed sheds in some places to reduce noise," the spokeswoman said.
She said the Sydney Metro West tunnels are being dug deep below the surface at an average depth of 38 meters to avoid damage to built structures.
Emelda Davis, Councilwoman for the City of Sydney, who lives in Pyrmont, called on the council to escalate residents' "reasonable concerns" about the project to authorities and request that they be consulted on adjustments.
"We welcome the opportunity to be better connected to the city and other communities. We just have to be clear here about what to expect and how it's going to disrupt our lives," Davis said.
Tunneling in Pyrmont is scheduled to begin in early 2024. The metro line is scheduled to open in 2030.
The Morning Edition Newsletter is our guide to the day's most important and interesting stories, analysis and insights. Login here.