Private schools are growing in Victoria, particularly in the outskirts of Melbourne
Principal Andrew Neal said population growth explained part of the school's expansion, noting that nearby government schools were also growing rapidly.
He said many of the school's new students are from immigrant families and that the school has become more multicultural as it has grown.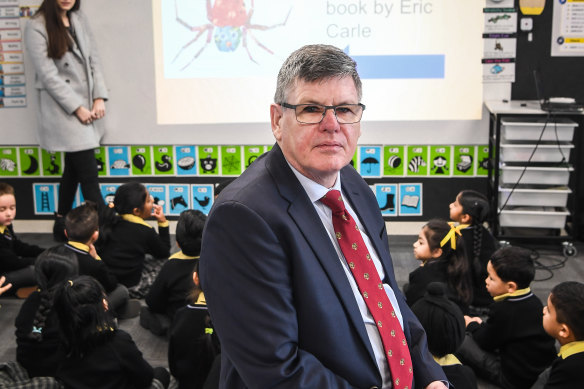 "If you go back to 2015, it was basically an Anglo-Celtic school," Neal said. "It is now a school that still has a significant number of children of European background, but there is a massive influx of students from South Asia."
MySchool data shows that between 2017 and 2022, the proportion of students at the school with non-English language backgrounds increased from 7 percent to 32 percent.
Neal said many South Asian families prefer private schools.
"I think what they're looking for in a school is a structured school, a well-disciplined school with an emphasis on academics, and that's what they see in the independent sector and in the selective sector [state] high schools," Neal said.
Paramdeep Mata took her two children from her local state school in Point Cook two years ago and enrolled them at Bacchus Marsh Grammar's campus in Aintree, despite the 40-minute drive each way.
Mata said the state school lacks a culture of academic discipline that she wants her children to have.
"If a child does their homework, they will be treated the same as a child who doesn't do their homework, which is them [her children] would say, 'Mom, why do I have to do this?'" Mata said.
"So life is. You can't just go back to work and say, 'I'm sorry I didn't finish my assignment.' So I think it's good to teach kids that when they're young."
McCrindle demographer Geoff Brailey said "emerging" migrant communities are well represented among those moving to Melbourne's sprawling outskirts and outer suburbs.
"It grows in elementary school [school] Area. People are preparing for the years to come so that their children can attend these independent schools," he said.
Brailey said many families prioritize personalized educational experiences and academic outcomes, and often find that independent schools are better equipped than government schools.
The Australian Curriculum, Assessment and Reporting Authority's national report on school education, released last month, revealed that independent schools received an average of $24,953 per student in 2021, compared to $20,940 per government school student.
49% of the independent schools' funding came from government grants and 51% from private sources, mostly fees.
The director of the Grattan Institute's educational program, Dr. Jordana Hunter said the trend towards independent secondary schools is remarkable. She said governments need to recognize that the trend is drifting away from their schools.
"The fact that more than 40 percent of secondary school students go to non-government schools should really give governments food for thought [for thought]," She said.
Loading
"Because the government option is basically free, and if parents still choose to send their children somewhere else, it's important that the government question what they're not offering that makes other schools more attractive."
Michelle Green, chief executive of Independent Schools Victoria, said growth in enrollment in low-fee independent schools in new suburbs and on the outskirts of Melbourne has been strong. In some cases, it filled gaps when new state schools couldn't keep up with population growth, she said.
"These schools meet the needs of young families being drawn to urban growth areas by more affordable housing," she said.
https://www.smh.com.au/national/victoria/more-parents-choose-private-schools-for-their-kids-particularly-on-city-s-fringe-20230301-p5coit.html?ref=rss&utm_medium=rss&utm_source=rss_national Private schools are growing in Victoria, particularly in the outskirts of Melbourne