Prince Harry reveals King Charlies was bullied jealous of William and Catherine
"[It] was obscene, grossly unfair because he was busy having children and raising a family. (Kate was pregnant again.) Also, he was still obliged to Pa, who checked the purses."
Harry said William "did as much as Pa wanted him to do," which "sometimes wasn't much because Pa and Camilla didn't want Willy and Kate to get a lot of publicity."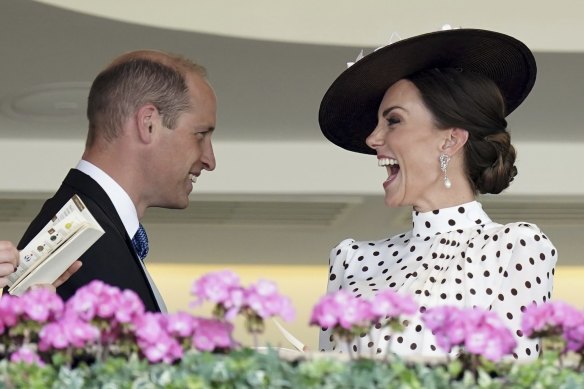 "Pa and Camilla didn't like it when Willy and Kate drew attention away from them or their concerns. You openly berated Willy about it many times,' he said.
Case in point: Pa's publicist berated Willy's team when Kate was supposed to visit a tennis club on the same day that Pa got engaged.
"Wills told me that he and Kate felt trapped and unfairly persecuted by the press and by Pa and Camilla."
He wrote that the press also repeatedly turned against his brother after he denied them "free access to his family."
"He had refused several times to trot Kate out like a prize-winning racehorse and that was seen as going too far," he said.
"Then he had the audacity to go out and make a vague anti-Brexit speech, which really annoyed her. Brexit was their bread and butter. How dare he say it's bullshit."
He writes that despite Camilla's role in the breakdown of his parents' marriage, they "didn't blame her" and the brothers "are happy to forgive her because she can make Pa happy."
Harry paints an intriguing portrait of his father, who constantly refers to his son as "my darling" but frustrates him by refusing to take on the press about her treatment of Meghan.
It also sheds new light on the king's troubled time at Gordonstoun boarding school in Scotland, where he was "persecuted as a boy" after his grandparents decided the then heir to the throne needed to be hardened.
"He was terribly bullied," writes Harry. "The most likely victims of Gordonstoun bullies were creative guys, sensitive guys, literal guys, in other words pa. He was beaten by the tough for his best qualities. I remember him mumbling, 'I almost didn't survive.'"
Harry said that when he was growing up, his father did headstands in his boxers every day to relieve neck and back pain from playing polo for years.
"If you put a little finger on the knob, you can hear him barking from the other side, 'No, no, don't open, please, don't come in,'" he writes.
"He paraded her daily in just boxers, leaning against the door, or hanging from a pole like a skilled acrobat."
Harry said in a US interview on Monday he believes the monarchy should live on but that there is only one place for it in the 21st century if it modernises, claiming the royals have missed a "big" opportunity to modernize the monarchy through what Meghan represented as a biracial woman.
"That's what she told me from the start, representation," he said.
"And I, as a privileged white man, didn't really understand what she was talking about."
Get a note directly from our foreign country correspondents about what makes headlines around the world. Sign up for the weekly What in the World newsletter here.
https://www.smh.com.au/world/europe/bullied-charles-was-jealous-of-high-profile-william-and-catherine-says-harry-20230110-p5cbfa.html?ref=rss&utm_medium=rss&utm_source=rss_world Prince Harry reveals King Charlies was bullied jealous of William and Catherine