President Joe Biden is attempting to reshape relations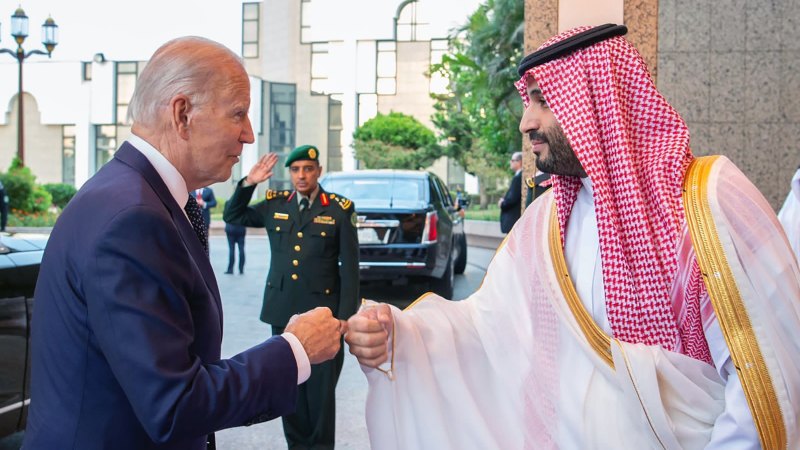 When the opening speech was over, several US reporters called out questions about Khashoggi to the crown prince. "Will you apologize to his family?" one shouted. The crown prince, with the Saudi energy minister sitting next to him, made no reply and appeared to be smiling as reporters were ushered out of the room.
Loading
US intelligence concluded that the Crown Prince, the kingdom's de facto ruler, directly authorized Khashoggi's assassination at the Saudi consulate in Istanbul.
The sensitive visit will test Biden's ability to restore ties with the prince. Biden wants to "recalibrate" Washington's ties with Saudi Arabia, not break them, US National Security Adviser Jake Sullivan said.
Biden said he would address human rights in Saudi Arabia but did not specifically say if he would address the killing of Khashoggi.
No instant oil boost
Jeddah hosts a larger gathering of Arab leaders on Saturday.
Biden will discuss energy security with Gulf oil producer leaders and hopes for more OPEC+ action to boost production, but it's unlikely there will be any bilateral announcements from the talks, Sullivan told reporters en route to Jeddah.
"We believe any further action taken to ensure there is enough energy to protect the health of the global economy will come within the framework of OPEC+," Sullivan said. "We hope to see more action from OPEC+ in the coming weeks."
The OPEC+ group, which includes Russia, meets next on August 3.
Biden will also promote peace and push for a more integrated Middle East during his trip, a government official said. Topics include strengthening a ceasefire in Yemen, "balance" in energy markets, and 5G and 6G technology cooperation.
Before the visit, Saudi Arabia said it would open its airspace to all airlines, paving the way for more overflights to and from Israel, in what Biden called a historic and important step in building a more stable Middle East.
Biden flew direct from Israel to Jeddah, a move the White House says is symbolic of warming Israeli-Saudi relations. Two years ago, Riyadh gave a tacit nod to the United Arab Emirates and Bahrain to normalize relations with Israel.
The US-brokered deals, known as the Abraham Accords, established a new axis in the region where Gulf states share Israel's concerns about Iran's nuclear and missile programs and proxy network.
Sunni Muslim Saudi Arabia and Shia Muslim Iran have been vying for regional influence for years, but last year began direct talks to quell tensions.
https://www.smh.com.au/world/north-america/a-fist-bump-and-a-handshake-biden-looks-to-reset-saudi-relations-20220716-p5b21t.html?ref=rss&utm_medium=rss&utm_source=rss_world President Joe Biden is attempting to reshape relations