Pop superstar Sam Smith on fighting for her hard-fought liberation
"I really wanted to make a statement with the first song that the challenge on this record is to find joy, and I really realized that a lot of that has to do with my sexuality. I feel like at the beginning of my career, which I think happens to quite a lot of queer artists in their lives, you feel a little bit desexualized. [There's] there's something so empowering about expressing that and feeling that… and that's when Unholy happened in the studio."
Smith can't contain her delight as he discusses the album's theatrical second single, Unholy. Playing with themes of shame and lust over a swaying beat, the track offers a side of Smith that's more suited to the club than crying at home – and a tongue-in-cheek rebuke of the pressures they once felt to tone down their sexuality.
"I had to work so hard on this song so hard", explain it. "I got to a point just before release where I was in a pretty magical place – I just didn't care what anyone thought. All I knew was that I loved this song and artistically it felt so sweet to me from the start."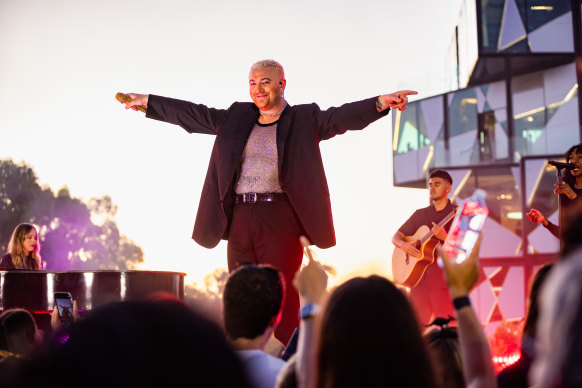 Unholy proved a hit with listeners and when Smith performed an intimate concert at the D'arenberg Cube in McLaren Vale the following night it received the biggest response of the evening. "This song is number 1 in Australia right now," they tell the crowd, "and I'm so grateful."
On stage, a beaming Smith moves her body with a sense of fluidity and abandon they once reserved for the safer, more private confines of the club. Smith says much of growing up happened in Australia, which has become a "little safe haven" since she first visited a decade ago.
Loading
"I was 20 or 21, I didn't have any gay friends, I was very confused, I felt quite isolated. I got better known, but I was like, 'I've never had a boyfriend, I don't know how to experience the things that I have to experience while juggling this job.'"
But the friendship and personal growth they found on this journey proved formative. "I met an amazing man named Trent in Sydney who took me to a gay bar called Stonewall; We sat outside and he basically took me under his wing. He could see that I was in this weird place as a queer person and he gave me all this amazing knowledge about Australian queer history and queer history in general."
Since then, Smith has rung in the new year with friends in Australia, with a flash of fresh red ink on his wrist as a souvenir of that recent trip. "It's a kangaroo paw, a flower," says Smith, "I love it."
Like glorythe days old tattoo is a symbol of love, joy and freedom – and for an artist who prides himself on wearing his heart on his sleeve.
Sam Smith will be touring Australia throughout October and November, with shows at Rod Laver Arena on October 31st and November 1st and Qudos Bank Arena on November 3rd and 4th.
A cultural guide to going out and making love in the city. Sign up for our Culture Fix newsletter here.
https://www.smh.com.au/culture/music/pop-superstar-sam-smith-on-fighting-for-their-hard-earned-liberation-20230116-p5ccvv.html?ref=rss&utm_medium=rss&utm_source=rss_culture Pop superstar Sam Smith on fighting for her hard-fought liberation