Police bodycam vision shows Bradley firing Jason Mark White shots in the street
Testifying this week, Hunt said he was initially skeptical about reports of a shooting and was surprised to hear gunfire as he arrived on Cutler Drive.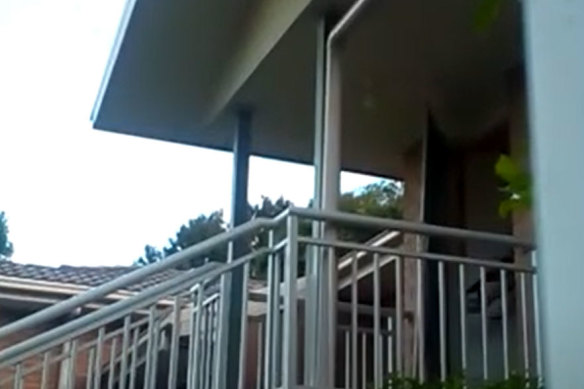 He said he took cover behind the engine block of a police car and ordered bystanders to return to their homes while other officers blocked the road.
The officer said he saw White shooting at a house across the street and heard bullets slamming into vehicles and the pavement. He said he saw White turn, aim his way and fire at least one bullet from a long, brown rifle.
When White surrendered around 7:15 p.m., Hunt said he searched the shooter and took him into custody at the Wyong Police Station. He said he had several conversations with White, including asking, "Can you tell me if anyone is dead?"
He said White also remarked, "I had two ice points today and then the rest while you guys were there."
Another vision released Friday showed the chaotic scenes during the shooting, including bystanders hiding behind cars, residents calling for help and a police operation to extricate three injured people from the back of a house on Cutler Drive.
In the footage, two small children in pajamas are being handed through a rear window as the shooting continues. A police officer wearing a ballistic vest tells everyone to go to the back of the house and get as low as possible.
On Friday, that officer told the court that gunshots were constantly being fired as occupants of the home were lifted out of windows, including seriously injured Byron Tonks, who died in the shooting.
"I thought we might get shot," the officer said. "[That] The bullets could go through the whole house."
The vision shows White repeatedly firing from the front of his house, switching between two weapons. He can later be seen surrendering and dropping to his knees in the middle of Cutler Drive with his hands up as the tactical police approach him.
When police searched his home, they found two firearms, spare ammunition, a green ammo belt, a small amount of methylamphetamine and a bowl of cannabis leaves.
The process goes on.
The Morning Edition Newsletter is our guide to the day's most important and interesting stories, analysis and insights. Sign up here.
https://www.smh.com.au/national/nsw/police-bodycam-vision-shows-chaotic-scenes-as-bradley-white-fires-226-shots-from-his-front-door-20220930-p5bm8n.html?ref=rss&utm_medium=rss&utm_source=rss_national Police bodycam vision shows Bradley firing Jason Mark White shots in the street