Pip Williams opens a new page in the world of her best-selling novel
When we meet in Melbourne the morning after her event, Williams is completely at ease: warm, engaging, conversational and without the airs and graces that some bestsellers have.
If it is a different world in which she publishes, it is one that she and her readers are familiar with in which to write The Bookbinder: She's back in Oxford, back in the First World War era, back at Oxford University Press and back with a cast of strong female characters. And two main characters from The dictionary, suffragette Tilda Taylor and typesetter Gareth Owen, return with her. "I loved these lovable characters who I felt maybe needed a little more air in their bodies."
The Bookbinder is about orphan sisters Peggy and Maude Jones who live modestly on a narrow boat on the Oxford Canal in Jericho. They work in the bindery at the printer's where they fold the printed sheets to staple and bind them and make them into books.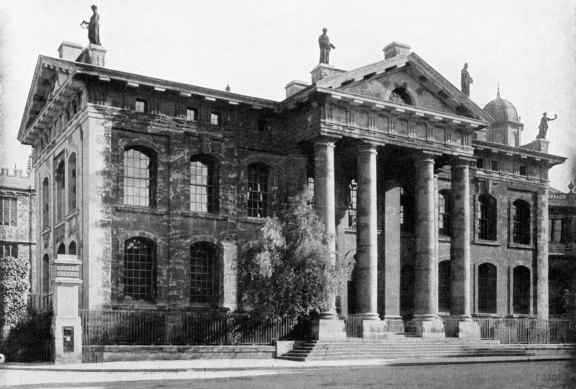 The First World War breaks out and soon men will leave the press and go into the trenches, Oxford will see an influx of refugees from Belgium and the suffragettes will relax their campaigns in favor of supporting the war effort.
But Peggy is frustrated. she wants more She feels constrained by obligations to her less resilient sister, who suffers from echolalia. Peggy wants to read more than the incomplete pages she folds. She craves knowledge but is limited by her gender and class. Across from the press is Somerville College, and that's where she'd really like to be. Given the nature of society at the time, however, it was a great opportunity.
I wondered if Williams was nervous about returning to the world of her first book. The success could have put additional pressure on her, knowing she had a large readership to disappoint. But no, she wrote it before The dictionary appeared.
The idea came to her during her last research trip to Oxford. She needed information on the women who worked in the bindery, for in the first Gareth had bound the dictionary of the same name and printed it as a token of love for Esme, who had collected the women's excluded words The Oxford English Dictionary.
"The bindery was literally divided into men's and men's departments Girl' side what is interesting. There was so little about her but I found some photographs from the 1920s that were just wonderful and that gave me this attitude."
She also found a 1925 film called Oxford University Press and The making of a bookwhich runs through all processes at OUP.
"There's this one little section in the bindery where the women are folding the pages and there was footage of a woman gathering the sections and it was so beautiful and I was wondering if she ever read the pages has."
When Williams did academic work, she began with a question, and she approaches her fiction in a similar way. For the new novel, they were interested in different forms of censorship, but especially systemic censorship.
"For working-class people, and especially women at this time, there is a certain amount [of censorship] this happens because you don't have access to the books, to the systems, to the universities, to the jobs. The question was really who is allowed to create knowledge, who is allowed to access it. And what is the consequence if it is denied."
Peggy sees the war as an opportunity. In the past, as Williams points out, many women found it difficult to break free from the limitations of class and gender.
"The war changed everyone's perception of what women are capable of. Women had to take men's jobs for England to keep going," she said. "The women who did all these men's jobs were workers. So the bus drivers, the factory workers, the bomb makers – they were working-class women. And so there is the argument that women should be able to vote if they can do men's work, but working-class women have been denied their right to vote for another 10 years."
TAKE 7: THE ANSWERS BY PIP WILLIAMS
Worst habit? I can't seem to keep my seatback in the upright position, even on the shortest domestic flight.
Biggest fear? Self-censorship – not speaking out against injustice when I see/hear/feel it.
The line that stayed with you? "Tell the whole truth, but tell it crookedly -" (Emily Dickinson)
Biggest Regret? Self-censorship – not speaking out against injustice when I should have.
favorite room? The room my partner built out of straw bales. It has an old stained glass window and an eccentric bookcase made from reclaimed wood that reaches to the ceiling and spans an entire wall.
The artwork/song you wish was yours? Music played in minor keys and Erik Satie's are killing me Gnossienne #1 brings me to tears.
If you could solve one thing… There's a temptation to aim high (climate change, inequality, greed), but to put it more humbly, if I could solve WORDLE on hard mode, I'd start the day happy.
Williams was also struck by the historical parallels. In her book, traumatized refugees flee the horrors of the Germans in Belgium to the physical safety of Oxford.
The five sections of The Bookbinder are each titled with the title of the book Peggy is folding. one is The Oxford pamphletsa series that included thoughts about war by Sydney-born Oxford classic Gilbert Murray.
"You are an amazing source of how people thought back then. They were written by all sorts of people, all men. Gilbert Murray wrote a few and you could read them and just substitute Germany for Russia and Belgium for Ukraine and it would be almost contemporary.
"We shouldn't be shocked to see history repeating itself, but it keeps repeating itself, which is a sad indictment of humanity."
As a young child, Williams lived with her parents in Wales, but was three years old when they moved to Queensland in search of the surf. Her father was obsessed. "It was South Africa, Cape Town or the Gold Coast or the Sunshine Coast. It was all about surfing…I'm not sure how much mom had to do with it."
Her father got a job in the sugar cane fields but found it "just too hot" so they moved south and into a flat on Manly beach. She attended Mackellar Girls' High School and, after a period abroad, Charles Sturt University for a degree in Social Sciences and Psychology, UNSW for her Masters and Adelaide for her PhD in Public Health.
But she never considered writing for a living, although she has always written – three first chapters of one puberty blues-style novels when she was 13 and a poem published in Puppet magazine when she was 15. Dyslexia didn't help. She reads fluently, she says, but slowly and finds it tiring.
That's why there were creative writing classes; she didn't want to read long books. It was bad enough playing HSC. "I never read them, I only read the bridging notes. I remember my English teacher telling us all so seriously that if you relied on him you would fail. Well I'm here to tell you you can. "
her first book time bomb, co-written with two other academics, was about how work makes us lack of time. By then she was certainly already "at the end of her academic abilities". She and her partner Shannon and their two boys had moved to the Adelaide Hills because they wanted a simpler life and to grow their own food. They spent a summer in Italy working on organic farms for inspiration.
But the move "didn't really work out, also because of my job. Being a researcher and writing research papers and grant proposals is kind of relentless and drains all creative energy," she said. "The call to write grew louder and louder. I had managed to suppress it for 30 years, but it was beginning to affect my sanity. I knew I couldn't do that while doing intellectual writing and research."
The trip to Italy was supposed to be a circuit breaker, but when she came back, nothing seemed to have changed. "Shannon was the one who said why not write about Italy and clarify what it means. And I did." An Italian summer was released in 2017.
Loading
Williams thinks of her books as children: "You have to stop giving them credit at some point." So now others have said goodbye The dictionary. It was adapted for the stage by Verity Laughton in a production directed by Jessica Arthur and will premiere in Adelaide in September before a season at the Opera House begins. It was chosen for a limited TV series and Canberra composer Marian Budos is writing a 'Book Concerto' for harp and orchestra based on it. The characters are represented by individual instruments – Esme is the harp.
If the result of reading this first book made you think about dictionaries and how their words are chosen, The Bookbinder of Jericho you will take a look at the physical production of your books, along with other questions about class and gender. No sewing or hand folding is required here; the binding is all glue. And there are certainly no bookbinders involved – they are all on the pages.
The Bookbinder of Jericho will be released on March 28 for $32.99.
The Booklist is a weekly newsletter for book lovers from book editor Jason Steger. Get it delivered every Friday.
https://www.smh.com.au/culture/books/acclaimed-author-pip-williams-returns-to-the-lost-world-of-her-bestselling-debut-20230301-p5cojh.html?ref=rss&utm_medium=rss&utm_source=rss_culture Pip Williams opens a new page in the world of her best-selling novel