Phil Gould's barking mad roar could be coming back to bite bulldogs
That Gould could have seen these falls up close and still claimed there was nothing to see is unforgivable.
Loading
I repeat. As a commentator, Gould has been one of the best over the years, right behind Peter Sterling. But Gould just doesn't get it.
The game has changed, and rightly so, and so has the commentators' responsibilities. There are others like Gould who just don't get it.
Ricky Stuart blasted the concept of the independent doctor this week, reasoning, "Do you think I would let a player play if he had or is a concussion?" Beggar Faith.
First, the doctor knows better than Stuart if a player has a concussion.
Second, the idea that Stuart would always see a battered player stagger on backplay is equally preposterous.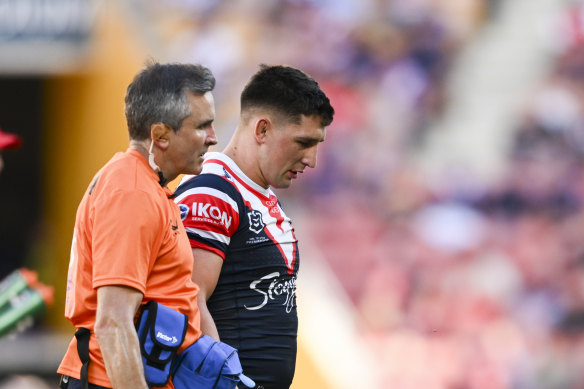 And third, the idea that coaches – apart from Ricky, no doubt – would always put the well-being of their players ahead of the needs of the game, globally and historically, is demonstrable nonsense.
I also find it disturbing, while we're on the broader subject, that the Roosters picked Victor Radley for this weekend, despite his severe concussion over the past year and the fact that he suffered another concussion on his first bat last weekend.
You'll recall the troubles the Roosters have faced in recent years with Jake Friend and Boyd Cmapper: top-flight players suffering concussions on an increasing number of occasions to the point of even pulling the pin.
Loading
I'm not saying that's going to happen to Radley despite his exceptionally robust play. I am saying that under the circumstances you would surely benefit him and rest him if in doubt?
Financial chaos of Olympic proportions
Speaking of ranting, TFF also tried two weeks ago how absurd it was for the federal and Queensland government to allocate $7 billion to the 2032 Olympics.
In the case of the Feds, I noted their reported $3.5 billion commitment, even adjusting for inflation, is about 14 times what they did for the Sydney Games. I've made similar rants about the absurdity of spending such huge sums of money on a new Penrith Stadium, at an alleged cost of $300 million – $12,000 per seat – but, as my insider put it, closer to $600 million at a cost of over $20,000 $ per seat.
Last weekend, The Oz followed suit, conducting an analysis by economist Colin Dwyer, associate professor at James Cook University, which estimated the cost per seat for the revamped Gabba at…$54,000. Dwyer said the cost per seat at the proposed $2.5 billion Brisbane Arena was…$147,058.
Friends? I told you this is madness.
This is madness.
It appears the Albanian government has reached the same conclusion, with The Oz also citing a spokesman for Federal Infrastructure Minister Catherine King, who blames the Morrison government's pledges for the current chaos.
Watch this room.
Latrell pulls through with the Goodes
The alleged racial abuse of Latrell Mitchell on Thursday night in Penrith by an eff-wit in a Roosters shirt is not the news.
The news is that Mitchell immediately called the fan out, even as he called security, to deserved applause.
When Adam Goodes pioneered this approach a decade ago, he left the game disappointed by the altercation. But he helped turn things around, showing Mitchell et al. the way to show similar strength.
Hopefully the fact that the Souths player didn't get flak for that shows Australia has matured too.
Well done Goodes. Well done Mitchell. Bravo to all those who support them.
Cauliflower in bloom
friends, shut it up! Behind that, Nick Farr-Jones and I started the Cauliflower Club as a vehicle for the rugby community to come together and raise money for rugby players and other athletes living with serious injuries to get them gear to help them get through relieved.
Since then we have hosted around 15 events and on our comeback from Covid we have one on May 5th at the Fullerton Hotel which starts at 12pm and goes until 4pm. This one is called One for the old days: Tales of Rugby World Cup Triumph.
As the Wallabies gear up for the World Cup in France, we feature Nick Farr-Jones, John Eales and Rod Macqueen, two world champion captains and a trainer, plus current generation Wallabies to talk about it!
You get the drift. A rugby lunch with mother browns up, just like in the halcyon days of yore. Come! All details are available here.
what they said
Wayne Bennett after his Dolphins chased the Roosters out of the park: "But the biggest winner today is the game." Somebody had to say it I think.
Gorden Tallis further NRL 360: "Rugby League will be the winner." They just didn't have to tell each other twice.
Phil Gould: "I think the Doctor in the Bunker is the greatest atrocity committed in the history of our game. [The NRL] give way to the media and doctors and lawyers and all that misinformation." I have publicly asked Gould to share with us what misinformation he is referring to, what he knows that the specialists, doctors and lawyers do not know. Not a word yet.
For the independent doctor, Rooster's Five-Eighth Luke Keary, with a long history of troubling concussions, is: "You better play it safe anyway. And as players, we might not be able to see it right now. We just want to play. But later we will be grateful to them. Anyone who argues against it, I don't see how."
Alex de Minaur after winning the Mexican Open: "I know I may not play incredible tennis every day, but I know I will fight to the end. I have a lot of heart in my little body and I enjoy competing so I'm very happy with that."
Souths manager Jason Demetriou after Latrell Mitchell was racially abused in Penrith: "If it were my child I would be absolutely ashamed, embarrassed that my child even thought to speak like that."
Spencer Leniu on his move from Penrith to the Roosters next season: "West Sydney is my home and I've never really been further than Blacktown. Moving east will be a difficult transition but I'm looking forward to it."
Economist Colin Dwyer, Associate Professor at James Cook University, on the rising costs of 2032 Olympic Games venues: "The stadiums to be built cost three times what was originally stated." I told you.
Independent Federal Rep. Zoe Daniel on the gambling adverts that are everywhere when you watch AFL: "Do we really want to create a situation where impressionable teenagers know more about the intricacies of 'multinationals' than about field tactics?" From what I understand we passed that point a few stations ago?
Ricky Ponting on the end of David Warner: "I think his career deserves to end the way he wants it to. Somehow not getting dropped or patted on the back in the middle of an overseas tour and ending his career that way. So I just hope he finds it within himself to get a lot of runs by next summer."
Dragon Captain Ben Hunt: "We don't get the wooden spoon. I don't care who says it, we don't understand it." Always good to think big.
Rod Stewart was amazed at how Ange Postecoglou is doing with his Celtic team: "You have to take me to Ange's house. That would be nice and I'll send him some pictures. We have to arrange that. What a guy he is! Football in this country needed a little dignity and he brought it to us. He's a wonderful man."
Golf analyst Brandel Chamblee brings the 9 iron to Greg Norman: "It's ironic to me that it could possibly be an Aussie who could potentially stop another Australian in Cameron Smith from rising to a point where he's considered the greatest player of all time. He supplanted Peter Thomson and had that kind of talent. . . He turned his back on that, and a lot of that has to do with Greg Norman, and Cam Smith got a lot of bad advice from his agents and other people in the game around him who were trying to suck him into LIV."
team of the week
dolphins Won her opening game in whatever the water equivalent of a gallop is as all four Queensland teams won in Week 1. In fact, all teams outside of NSW won their opening game as the Storm and Warriors also won.
Steph Catley and Caitlin Foord. The Australians are part of the Arsenal team that won the Women's League Cup. They beat Sam Kerrs Chelsea in the final.
Danielle Scott and Laura Peel. Australian ski jumpers won gold and silver respectively at the World Cup event in Engadin, Switzerland.
Grace Harris. She needed 19 from the last over in the Women's Premier League and got 22 to get her UP Warriorz over the line
Richmond and Carlton. Kick off the AFL season next Thursday. Geelong will win again this year. You heard it here first.
IPL for women. The five-team tournament is underway. Will do great things for women's cricket
Usman Khawaja. Scored a century in India.
Twitter: @Peter_Fitz
News, results and expert analysis from the sports weekend are sent out every Monday. Sign up for our sports newsletter.
https://www.smh.com.au/sport/gould-s-barking-mad-rant-could-come-back-to-bite-bulldogs-20230310-p5cqzz.html?ref=rss&utm_medium=rss&utm_source=rss_sport Phil Gould's barking mad roar could be coming back to bite bulldogs