Pets on public transport? Sydney should follow London's example
"The better I get to know men, the more I love dogs."
Regardless of who wrote this quote (oddly attributed to both Mark Twain and Charles de Gaulle), it resonated widely this week as I scrolled through reader responses to a plan to allow dogs on Sydney trains and buses.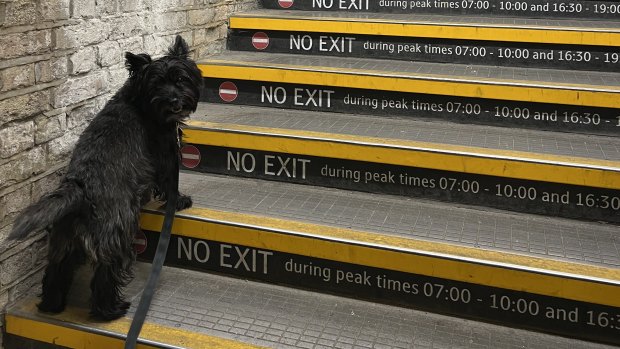 The idea proposed by Clover Moore can hardly be considered the veteran mayor's most revolutionary idea, but the level of public anger it sparked (sorry) seems disproportionate. One headline, "Barking Mad," best sums up the majority opinion, while a number of outraged commentators predict disasters ranging from dog fur (and worse) on train seats to scenes of abused schoolchildren and victims of dog attacks. Really? Really?!
I have lived in London for 15 years now, 11 of which have been with a Cairn Terrier, a lively Scottish breed commonly known as Dorothy's Toto The Wizard of Oz. Our boy (who, by the way, was called Sherlock before we found out his grandfather was called Moriarty) is just one of an estimated 9 million pet dogs living in the UK. On the continent, Germany is at the top of the dog owner list with 9.2 million dogs Canis familiarisfollowed by Poland (7.55 million), Italy (7 million) and France (6.95 million) – and all are welcome to travel by public transport.
In London, every commuter is allowed to take two animals with them per fare – and the four-legged friends travel for free. I've seen a Great Dane folded up in the luggage compartment of a London bus, rescue dogs sprawled in the aisles, Pomeranians and Chihuahuas peeking out of handbags and backpacks, and a corgi neatly sharing a train seat with its owner. I couldn't count the number of buses and trains that Sherlock happily boarded with us, only occasionally shying away when "Beware of the Gap" warnings on the subway announced a huge gap for his short terrier legs would arise between the train and the platform. (Admittedly, he's not a fan of escalators either).
Over the years we've also seen two large Bengal cats getting on a bus, a large and swearing Macau parrot sitting on a man's shoulder on the subway, and I've even seen a pet ferret in his owner's sock and disappeared from it again. Nobody raised an eyebrow. And not once have I seen an animal denied entry to a bus or train, nor was there any excitement or excitement.
London is home to almost 9 million people, a vast metropolis where public transport dominates cars. More than 3 million Londoners use public transport every day, while around 21 million journeys are made by bus or train in a 24-hour period.
Sydney, on the other hand, remains a car-dominated city, surrounded by motorways and dominated by traffic. The vast majority of commuter journeys are made in cars, which are naturally characterized by individual choice and comfort.