Peter Wright goes under while training
Marnie Vinall
A five-way deal involving seven players from the AFLW has brought last season's leading scorer Jesse Wardlaw to St Kilda after five seasons with the Brisbane Lions.
The Premiership player joins ex-Collingwood co-captain Steph Chiocci and midfield gun Jamie Lambert as new faces at Moorabin.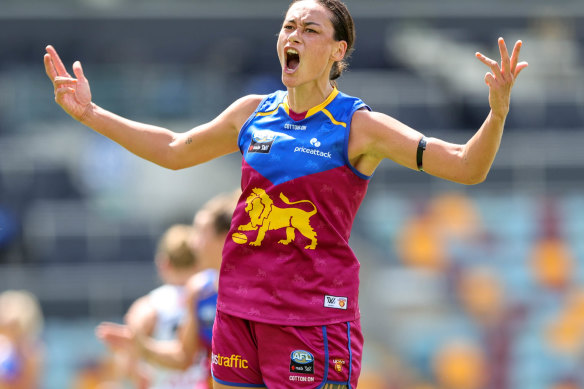 In the mega trade, the Saints also get Gold Coast's Serene Watson, while Lulu Pullar travels from Brisbane to North Melbourne and Jordan Membrey, Ella Maurer and Clara Fitzpatrick all join the Suns.
Finally, the Suns' Ellie Hampson will travel to cross-town rivals Brisbane.
Wardlaw, 23, earned an all-Australia selection last season after scoring 45 goals in 47 games.
Despite her success with the Lions, she said she wanted a change.
"I loved my time in Brisbane and will always have a special bond with the girls I played with there," Wardlaw said.
"But to take my foot to the next level I wanted to challenge myself, move to Melbourne and join a club I really believe in and I think I found that with the Saints.
"I can't wait to get stuck in introductory training, getting to know more of my teammates and doing whatever it takes to help this team succeed."
Earlier this week, Brisbane manager Craig Starcevich said despite losing some core players this year – including the league's Best and Fairest winner Emily Bates and Greta Bodey to Hawthorn – he was pleased that the core of the big final teams of last season chose to resign.
"Given the current environment, it's exciting to bring a large group back to the club because it shows a lot of confidence in what we've built as a founding team in AFLW," Starcevich said.
"Over the past couple of seasons players have had the opportunity to weigh the strength of the program they are in against the additional rewards offered by the newer clubs.
"It's gratifying that the vast majority, currently 19 of them, continue to make informed football decisions."
These include reigning best and fairest Ally Anderson and captain Bre Koenen.
Giants veteran Davis falls to the ground with fear of injury
Vince Rugari
As a new era dawns for the Giants under coach Adam Kingsley, one of the club's old favorites suffered a serious injury scare on Friday when former skipper Phil Davis went down in a crumpled heap.
Hearts sank at Giants Stadium when Davis fell to the ground during a training exercise and then clutched his knee – although worst fears were soon allayed when it was revealed he had only twisted his ankle, albeit severely.
Either way, it's an unintended setback for the 32-year-old and his hopes of playing at the highest level again after three years of injury. The key defenseman famously carried a calf strain into the 2019 AFL Grand Final and has only played 26 games since after torn both hamstrings and sustained a serious knee injury.
Davis, who is eight games short of the 200-game milestone, was pulled from the list late last year after playing just four games for the Giants in 2022 and was re-called as a rookie.
"He's a special part of the footy club," said star midfielder Josh Kelly.
"His leadership in general, his ability to influence and pull boys along has been outstanding throughout my time at the club. Hopefully it's just a rolled ankle and it's not too bad… but it's too early to tell. He fought his way back through the VFL and will hopefully be available sooner or later."
The Giants meet Davis' former side Adelaide in Sunday's season opener and it will be impossible to resist the stamp Kingsley left on the club in its first year.
The term 'Orange Tsunami' once described GWS' expansive run-and-gun style of play during successive years of finals football under Leon Cameron – but it was only used by the media and fans and never within the club itself.
But Kingsley has embraced it not only as a core part of the Giants' new game plan but also their identity, plastering those words on the walls of their locker rooms at Sydney Olympic Park – while even insisting on a "tsunami warning". heard pre-games over the PA and on the big screen at Giants Stadium as the players go to their positions.
"I think embracing it as our identity just makes it a part of what we want to stand for," Kelly said.
"Are we going to play Giants brand footy on game day? Are we playing the tsunami? Just little things like that, little bits of terminology that 'Kings' brought along…Having that clarity of what it looks like and embracing it was really important."
https://www.smh.com.au/sport/afl/early-season-blow-for-bombers-as-peter-wright-goes-down-at-training-20230317-p5ct1q.html?ref=rss&utm_medium=rss&utm_source=rss_sport Peter Wright goes under while training