Peter Dutton calls on the Liberal Party to pick a woman in Aston
Peter Dutton has told the Liberal Party's Victorian branch that he would like a woman to be pre-selected to replace outgoing Shadow Secretary Alan Tudge, while announcing a front bench reshuffle.
Dutton will announce on Sunday that opposition communications spokeswoman Sarah Henderson will replace Tudge in the education portfolio, while former Immigration Secretary David Coleman will be promoted to the frontbench to take over communications.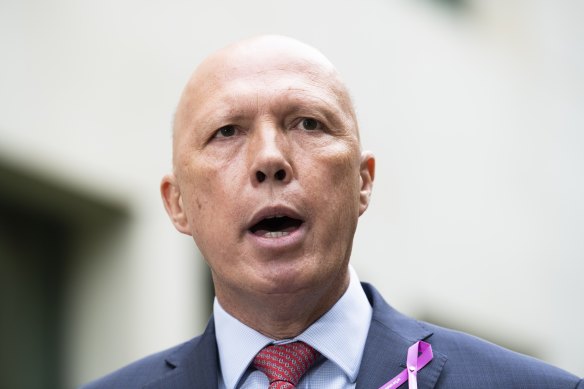 Tudge's decision to leave politics will trigger a by-election at his Aston seat in far east Melbourne in the coming months – and Dutton said he expected the party to select a woman.
"I've made it very clear in my discussions with key figures in the division that I expect we will shortlist a female candidate at Aston," Dutton said in a statement. "I have not spoken to anyone who disagrees with my position.
"We have some incredible women who have expressed an interest in becoming our Aston nominee and I would strongly and respectfully encourage our Victorian members to get behind any of these nominees."
Former treasurer Josh Frydenberg, who lost his Kooyong seat in Melbourne to blue-green candidate Monique Ryan in last year's election, has privately ruled out running for Aston.
Victorian Liberal Party President Greg Mirabella said a number of women are expected to run for shortlist for the seat, and singled out Melbourne City Councilor Roshena Campbell as a strong contender.
Alongside Campbell, who is also an attorney and columnist for Age, Guardian Columnist and oncologist Ranjana Srivastava and former State Rep. Cathrine Burnett-Wake are also considering running.
Emanuele Cicchiello, assistant principal and former Knox City Council mayor, was also mentioned by some party sources as a strong contender – but others said Campbell and Srivastava had the best chances.
https://www.smh.com.au/politics/federal/liberal-party-must-preselect-a-woman-in-aston-dutton-says-20230211-p5cjqc.html?ref=rss&utm_medium=rss&utm_source=rss_politics_federal Peter Dutton calls on the Liberal Party to pick a woman in Aston