Parts of the city need to triple their targets, planning chief says
Roberts said it was also crucial to "squeeze" more jobs and housing from the existing heavy rail routes, noting: "Around Fairfield we have three of the busiest rail stations on the Sydney network."
Contrary to what Prime Minister Chris Minns hinted at a news conference this week, the new housing targets will likely see a net increase rather than just a reallocation of current volume.
For example, sources in the Hills Shire said they expect their relatively high targets to remain essentially the same and not be lowered.
Industry sources said the commission wanted to split the five-year target of 314,000 new homes (set under the National Housing Agreement) to 250,000 for the six-city region including Sydney, Newcastle and Wollongong and 64,000 for the rest of New South Wales. But Roberts denied this, saying nothing has been finalized yet.
The commission was set up by the Liberals in 2015 with bipartisan support. Roberts served as first deputy commissioner under Lucy Turnbull and was promoted to the top post in 2020.
There is uncertainty as to whether the new Labor government will keep the commission in its current form, given Minns' previous comments about overly complex governance planning.
Loading
Roberts said it's useful to have horizontal agencies that cover different areas, even if they inevitably lack the budget and direct power of a government agency. "It's the pulling together where you get one plus one equals 10," he said. "We have proven that we can do this. We have to do that more consistently."
Planning Secretary Paul Scully commended Roberts for his achievements, particularly his focus on western Sydney, but gave no further details on the housing targets. Deputy Commissioner and Architect Deborah Dearing will take on the top position, but the position has not yet been advertised.
Roberts said he wasn't defending the commission's record on housing targets, but noted that it had set a target of 180,000 new homes for the greater Sydney area between 2016 and 2021 and had achieved about 165,000. He acknowledged that policymakers had not prioritized social and affordable housing.
"Why have social housing lists gotten longer? That's certainly something we should focus on, and that's what we're doing now. Why are Aboriginal land claim lists getting longer? We certainly need to sort this out more quickly," he said.
Roberts said opposition to development that isn't in my backyard (NIMBY) has been widely overstated, arguing that most people would welcome density done properly.
"It's the generational gap between providing housing and providing infrastructure that ultimately leads to NIMBYism," he said.
"The big challenge right now is to take advantage of the infrastructure that the last decade has created."
The time for West Sydney is 'coming'
Roberts said the big unfinished project of his eight years at the commission is to create more jobs and education in western Sydney.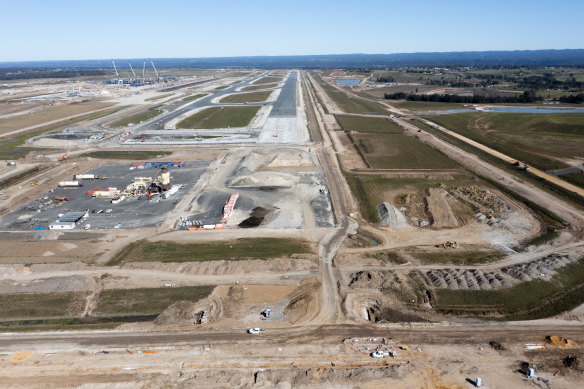 The best opportunity for this is the upcoming Western Sydney Airport and surrounding aerospace hub, he said, but success will not come automatically and it will still be "a long time before the ship is operational again".
"We only build airports in cities every 100 years. You can't waste [that]' said Roberts. "We still don't have enough jobs west of the Parramatta River.
Loading
"Why do we have five of Sydney's six universities east of Parramatta? We are all proposing to go west now, but you can't expect resilient workplaces, smart workplaces and the workplaces of tomorrow if you don't have a university, TAFE and quality learning venues nearby."
Roberts praised the early decision to build a new airport city based in Bradfield – "not an airport unconnected to its city". However, he recognized that there was dismay in surrounding urban centers at whether the aerotropolis would deprive them of jobs and infrastructure.
"We have to make sure that Liverpool, Campbelltown [and] Penrith is there as well," said Roberts.
The Morning Edition newsletter is our guide to the day's most important and interesting stories, analysis and insights. Login here.