Parents are choosing private and religious schools as student enrollments soar
She said decades of increased federal funding for private schools have made them more affordable, while parents felt they were providing a higher quality education.
"People think that if you pay for something, it gets better. It's a bit of a myth, but it's a longstanding belief," she said.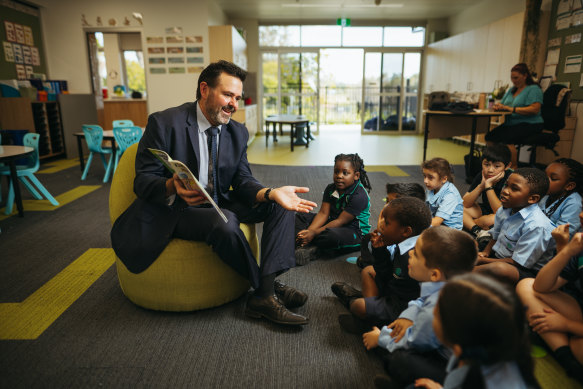 She said the teacher shortage of recent years may be a factor in causing more parents to leave the public system.
"There is a serious shortage of teachers, which is hitting public schools particularly hard in certain areas," she said.
Graham Catt, chief executive of Independent Schools Australia, said one reason for the growth was that parents had been looking for schools that could do distance learning effectively.
"From 2020 to 2022, during the pandemic, we know that one of the drivers of that growth has been the ability of independent schools to adapt and transition," he said.
Mark Spencer, director of public policy at Christian Schools Australia, said parents were drawn to the values-based education on offer.
"It's the ones who are described as Howard's fighters, Tony's handymen, or the quiet Australians – they're ordinary suburban mums and dads, a traditional father with a mother who works part-time in the office or in retail," he said.
"We have parents like that, we also have parents with an ethnic migration background, we have a lot of applications from Islamic parents because we offer a values-based education that they find attractive."
According to the report, the average public school student received a total of $20,940 in government funding in fiscal year 2020-21, compared to $12,260 for private students.
"By contributing families and other private sources, governments are estimated to save $5.7 billion in funding," the report said. The average annual fee for a private school was US$5,272, well below Australia's most expensive school, Kambala in Rose Bay, which charges US$46,300 per year for Year 12.
Loading
Demographics Group demographer Simon Kuestenmacher predicted that private school enrollments would continue to rise, thanks largely to the hundreds of thousands of people migrating to Australia each year. However, he warned that demand could be dampened as parents reconsider their private education simply because more of their money is tied up paying off a huge mortgage in Sydney or Melbourne.
"One relatively big cost-cutting opportunity is to take your child out of private school — or, most commonly, not send them at all," he said.
"Most people don't start a family until their mid-30s, they buy a house in their late 30s, and if you send them to a private high school in their mid- to late 40s, you've got a big mortgage, the cost of living goes up." If it's up don't be optimistic about the future."
According to the report, private schools had 14 children per teacher in primary and 10.4 students per teacher in secondary schools, fewer than in the public and Catholic school sectors.
Oran Park Anglican College principal Naomi Wilkins said her school had grown by 1,000 students in 12 years. "We anticipate 90 more students next year, but we don't have enough classrooms to meet demand," she said.
Leppington Anglican College, a pre-primary to seventh grade school in south-west Sydney, opened this year with 190 students. Principal Michael Newton said he expects his school to grow to 350 students in 2024 when it accepts eighth graders.
"The main reason parents choose to go to school is because they want a disciplined environment with high expectations," Newton said.
"They want high standards, particularly in terms of uniformity and behavior, and a culture and values ​​that are consistent with their own." Annual tuition at the school is just over $8,000 for 7th graders.
"Overall, there is also a shortage of schools in parts of south-west Sydney," he said.
With Nigel Gladstone
The Morning Edition newsletter is our guide to the day's most important and interesting stories, analysis and insights. Login here.