Paradise or the transience of ice
THE PARADISE OR THE RELIABILITY OF ICE CREAM ★★★★½
Lennox Theatre, January 17. Until January 22nd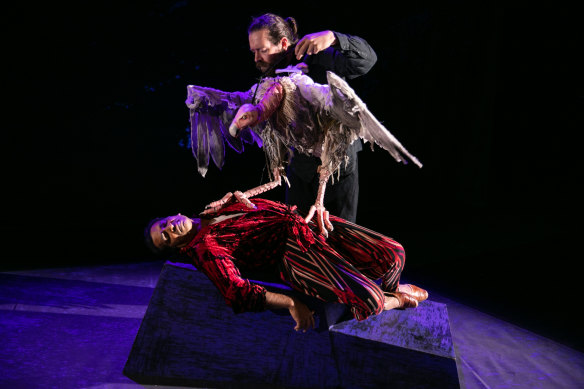 The eyes staring at you with such malicious intent belong to the only vulture I've ever seen on stage. But despite its ferocious, flesh-tearing beak, bald pink throat, and ragged plumage, by the end of 80 minutes you've grown quite fond of this vulture and wondering if it's possible to have one as a pet.
Paradise or the transience of ice is surely the first play ever written about vultures and ice cream. It's also about life, death, love, thwarted ambitions, religion, moneylenders and chai. And it's a comedy.
Well, mostly. Written by Jacob Rajan (who stars in it) and Justin Lewis (who directs) and inspired by Ernest Becker The Denial of Deathcoming to the Sydney Festival from New Zealand's Indian Ink Theater Company, the other key collaborator is the gifted Jon Coddington, who made and runs the disarmingly lifelike Vulture.
Rajan is pretty good too, playing seven characters without even changing hats. First and foremost, he is Young Kutisar, a Mumbai chai seller with a heart of gold and a flair for incompetence. He is also a 50 year older version of Kutisar, looking back on his reckless youth and those who populated it.
You are Meera (a smart girl who is stuck running an ice cream shop), Farooq (a fundamentalist Parsi), Dr. Rao (Meera's aging aunt), Vibhu (a vulture expert) and a ruthless moneylender.
Switching between characters, Rajan shrinks or grows, becomes stiff or limp, gains or loses charm, and finds seven different voices. He does it so well that there's virtually no confusion as to who's who, even with three characters exchanging rapid-fire lines.
https://www.smh.com.au/culture/theatre/paradise-or-the-impermanence-of-ice-cream-review-where-vultures-dare-20230118-p5cdcg.html?ref=rss&utm_medium=rss&utm_source=rss_culture Paradise or the transience of ice