owners of Toplace apartments fear being left with defects bill
Video taken from inside the building shows flooded fire escapes, water dripping through a smoke detector and seeping water corroding the steel being used to shore up the concrete slabs.
On Friday, Building Commissioner David Chandler suggested that all was not lost for residents hoping to take advantage of the arrangement he made. He told the Herald in a statement the $11 million security and the guarantee remained in place for all five buildings in the 960-apartment Skyview complex – those already built and those under construction that might yet be taken over by a new builder.
"All buildings share a common basement, and it was this part of the building which was the subject of the undertakings guaranteed by Toplace," Chandler said. "If the companies trade out of receivership or are taken over, those entities will take on the obligation.
"If liquidated, the current and future owner's corporation can access the guarantee."
But owner Alexandra Jurd fears that the $11 million will barely scratch the surface of future repair works required at Skyview. "$11 million is not very much when you're talking about huge high-rise buildings," she said, adding there were a number of constraints over how and when the money could be spent.
"And as time goes on the defects will become more expensive to fix. Eleven million [today] isn't worth as much as when they signed it."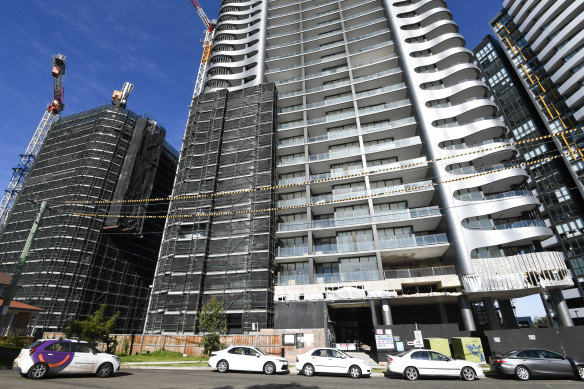 Jurd has chosen to move out of her first-floor apartment in Skyview rather than sleep with 75 metres of concrete and steel suspended above her and her young family.
"I was getting very stressed by the idea the building wasn't safe," she said. "I was starting to get anxious going to bed, wondering if we'd still be here in the morning."
The saga highlights the unwieldy beast facing NSW regulators who have been trying to banish shoddy building practices and eliminate cowboy developers since 2018, when cracking noises were first heard at the Opal Tower.
The scale of the problem later became apparent as residents were evacuated from towers at Mascot and Zetland and supports were put in place to prop up a tower at Canterbury.
The Herald interviewed several experts this week about the success of the reforms enacted by the state government over the past five years under Chandler's leadership.
While they commended the progress that has been made so far, all stressed that bringing about wholesale change was fraught with difficulty and there was no silver bullet available to the government.
They cautioned the success of the changes was unlikely to be evident for several years, while legacy buildings constructed under the old regime were likely to continue to inflict a devastating toll on apartment owners.
Construction lawyer Bronwyn Weir, who co-authored the landmark Shergold-Weir report into Australia's building regulations, estimated it would take five years before conclusions could be drawn about the success of the reforms but described the progress made so far as "remarkable".
Loading
"We really need to be doing what's happened for the last three years for 10 to really turn it around," she said.
The $900 million Skyview project at Castle Hill was meant to be the jewel in the crown of the glittering Toplace construction empire. Instead, the development would be Nassif's undoing, with NSW Police issuing a warrant for his arrest in June over an alleged large-scale fraud to keep money flowing to the project from a $150 million Westpac bank loan.
Skyview had already been causing headaches for Nassif. As the first two of five towers were nearing completion in mid-2021, a whistleblower circulated a dossier of photos to state MPs, raising concerns about the condition of the concrete slabs. Department of Fair Trading inspections subsequently discovered "extensive signs of cracking in the basement".
While the cracks could be remediated, an expert report found they should "ideally" be monitored for the rest of the building's life. Chandler slapped Toplace with a prohibition order preventing the issuing of an occupation certificate for Skyview, which stymied the company from settling on the apartments.
It was lifted a few weeks later in July 2021, once Toplace agreed to the guarantee. At the time, Nassif told the ABC that consumers could be confident in the Skyview buildings because they were now the "the most studied pieces of concrete in Australia".
"We plan to continue on as one of Sydney's most reputable developers," he said, noting the publicity had delivered a boost to apartment sales.
A small group of off-the-plan buyers were aghast at the prospect of settling on the apartments, and launched a legal bid in the Land and Environment Court to have the occupation certificate set aside.
They enlisted the help of Vavrica, who had been advising owners pro-bono at other troubled towers across Sydney.
Vavrica said he was shocked to inspect the building in March 2022 and discover a string of defects, including flooded fire escapes, water dripping through a smoke detector and seeping water corroding the steel being used to shore up the concrete slabs. The fire doors also failed to close properly. Vavrica said proper door closure was essential to prevent fire spreading from one compartment of the building to another. The Herald has seen videos which confirm his account.
"Those things were blatantly obvious," Vavrica recalled. "If you see water dripping down from a bunch of high voltage cables, something is wrong."
The buyers went into mediation with Toplace and reached a confidential settlement in April last year.
Vavrica took his concerns to NSW Fair Trading, which fields complaints on behalf of the Building Commissioner, and Hills Shire Council.
He told them his review of the documentation showed some of the building certificates for the project were signed off by subcontractors who were unlicensed or didn't have relevant qualifications. Vavrica said he never received a response from Fair Trading, which he described as "beyond concerning".
Hills Shire Council asked Fire and Rescue NSW to inspect the building after receiving Vavrica's complaint. The inspection uncovered a series of "very serious fire safety deficiencies" and last month the council issued orders that they be fixed.
The council said at the time it would write to the Building Commissioner urging him to have the developer resolve the safety breaches at its own cost. Toplace went into administration only weeks later.
Loading
Chandler said he was aware of the report and orders made by council but had not seen them. "These will be reviewed and considered," he said. "The certifier will be asked to review and respond to allegations.
Chandler said the reforms implemented when he came into office were not a replacement for a builder's quality assurance or a developer's certificate. He said his office was auditing eight projects a month and more than 400 audits had been conducted involving more than 28,400 apartments.
"My message to developers and builders of apartment buildings in NSW is that it's not an 'if' but a 'when' they will be audited by the regulator," Chandler said.
Jean Nassif and Toplace have had their licenses suspended for defects in their buildings including Skyview.
Jurd said she was forced to settle on her unit and discovered that rain would send a "river" of water running through the car park and into her storage unit. "So we had to organise to get everything lifted off the floor, then next time we checked it was all mouldy," she said. "We just we felt like we were constantly battling things like that."
She said the fire evacuation alarms in the building went off at least twice a week, including on a winter evening when she had just returned home from hospital with her two-year-old son who had pneumonia. "He's now terrified of evacuation alarms, he used to love fire trucks, but he doesn't anymore," Jurd said.
Jurd ended up moving back in with her parents and leasing the unit out, but her ordeal is far from over. "How is this going to affect us, what if they demolish the building because it's unlivable because there's so many defects it's not safe?
"I'm not even sure I'd want to sell to somebody, putting them into this mess. What do you do morally?"
Two laws were introduced in 2020 to restore public confidence in the building industry and crack down on rogue developers and certifiers.
The Design and Building Practitioners Act required the registration of practitioners involved in design and building work and put new obligations on them to ensure their work was compliant with building codes. It also introduced statutory duty of care protections for apartment owners.
Regulators were delivered new investigation, rectification and enforcement powers for apartment buildings via changes to the Residential Apartment Buildings Act.
The Building Commissioner was given the power to stop an occupation certificate from being issued, order developers to rectify defective buildings and issue stop work orders.
Vavrica is unconvinced the state government's reforms are working. "What has happened after the Opal Tower in my opinion is that a bandaid was slapped on the industry … without addressing the core issues," he said.
Vavrica argued private certifiers were not providing the rigorous layer of oversight needed to unearth problems before they were set in concrete. "Their job is reduced to ticking the boxes on a spreadsheet, relying on certificates produced by others, not checking their validity," he said.
The Toplace controversy has seen renewed calls for NSW to return to a system of council certifiers overseeing buildings, rather than private certifiers, who are on the payroll of the developers. The Carr government introduced private certification in 1998.
However, former treasury secretary Michael Lambert, who conducted a major review of the NSW home building industry in 2015, does not believe returning to council certification was the answer.
"They often missed issues," he said. "It wasn't the panacea that people think it was."
Lambert said he has worked with the state government to develop a new standard for building certifiers in NSW, which was published last year.
He argued more rigorous private certification needed to work in tandem with the building commissioner's team focusing on high-risk sites.
Lambert said he was happy with the progress made since his 2015 review.
Paul Jurdeczka, a partner with Chambers Russell Lawyers which specialises in defects disputes, said the state government had made a "good start" but further reform was needed to tackle the deep-seated issues plaguing the NSW construction industry. He welcomed discussion of a new building bill.
"Unfortunately, we have found through bitter experience that there are no easy solutions to these problems as they relate to a long history of deeply embedded poor practices and standards," Jurdeczka said.
Loading
Jurdeczka said consumer protections needed to be strengthened and new legislation had only partially remedied an erosion of consumer rights over the years.
"Any solution that relies on the government ensuring compliance will fail due to the practical impossibility of the task," he said. "The Building Commissioner cannot be checking a project at every stage.
"Imagine if the quality of new cars was dependent on government inspectors checking every car before it was sold?"
In 2019, the Herald wrote about an epidemic of developers and builders (unrelated to Toplace and Nassif) escaping liability for defects when their companies were put into liquidation midway through legal battles with owners corporations. The practice becomes an illegal activity known as phoenixing only when it is proven a company was deliberately wound up to avoid paying debts.
"We have this fundamental way we operate our corporate structure which is used and abused all the time," construction lawyer Weir said. "It's a real battle."
Loading
Jurdeczka said the state government was limited in what it could do to fix phoenixing because company law was a federal matter, but mechanisms such as licensing for developers or guarantees for projects could be explored.
Chandler said that more than 400 developers were being graded on a 3-star system via NSW Fair Trading's digital risk rating tool. "Developers and builders with phoenixing records will not get a rating," he said. "Purchasers now have for the first time a tool to help them select trustworthy developers and builders."
He said his office and NSW Fair Trading had conducted extensive audits of certifiers. "There has been significant improvement in private and public certifier performance, but there is room for improvement," he said.
The Morning Edition newsletter is our guide to the day's most important and interesting stories, analysis and insights. Sign up here.