Outgoing President of the Richmond Tigers Club, Peggy O'Neal, becomes Chair of the Planning Committee for the Victorian Commonwealth Games
Outgoing Richmond President Peggy O'Neal will chair the organizing committee tasked with planning the 2026 Commonwealth Games to be held in the Victoria region.
O'Neal will chair the organizing committee, working alongside former Victorian COVID-19 commander Jeroen Weimar, who is now the executive director of the panel.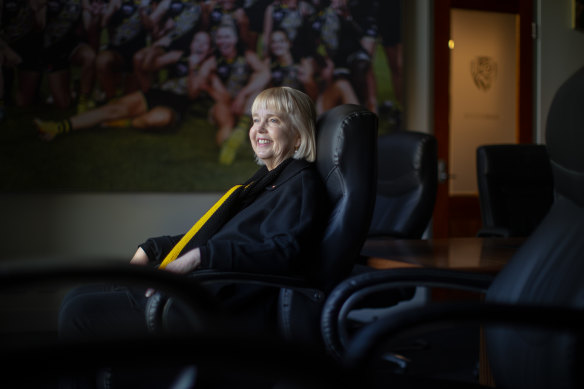 American-born O'Neal was the first woman to serve as president of an AFL club and has guided the Tigers from a consistently underperforming team to one of the leading teams in the competition. The groundbreaking president will complete her 10-year tenure as the club's board of directors in December, after serving three premierships in 2017, 2019 and 2020.
The committee is tasked with organizing the international event across the state in a decentralized format spread across regional hubs of Geelong, Bendigo, Ballarat and Gippsland. The Opening Ceremony will take place at Melbourne Cricket Ground.
Loading
"I love sport and what it means to communities across Victoria. I am delighted to be a part of the Victoria 2026 Commonwealth Games and to work with the Board to ensure that the diverse voices of our state are heard as we make decisions as the Games are conducted," said O'Neal.
The new board, announced Friday night by Jacinta Allan, Deputy Prime Minister and Secretary of State for Commonwealth Games, includes First Nations advocate Belinda Duarte and corporate and public sector executive Lisa Gray.
It also includes representatives from the international Commonwealth Games Federation and Commonwealth Games Australia.
O'Neal, a lawyer by profession, is joining the Commonwealth Games 2026 committee after being appointed Chancellor of RMIT University in October last year.
https://www.smh.com.au/national/victoria/peggy-o-neal-to-chair-commonwealth-games-planning-committee-20220819-p5bbd2.html?ref=rss&utm_medium=rss&utm_source=rss_national Outgoing President of the Richmond Tigers Club, Peggy O'Neal, becomes Chair of the Planning Committee for the Victorian Commonwealth Games