Operating theaters used as cabinets at Children's Hospital Westmead
Four new operating rooms are storing boxes of medical supplies and equipment as thousands of children await essential surgeries amid a deepening staff crisis at Sydney Children's Hospital Westmead.
The hospital pledged that pediatric operating rooms in the $460 million Central Acute Services Building (aka Block K) would be open by February to clear the backlog of elective surgeries as the number of children waiting longer than clinically recommended has increased exponentially since The building first opened almost two years ago.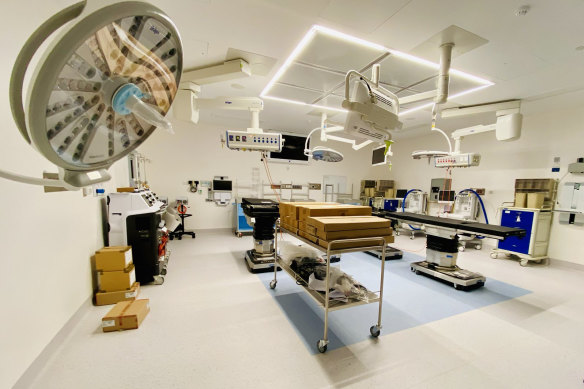 But an impasse between the hospital's management and its specialist anesthesiologists, who keep operating lists, means the state-of-the-art theaters, which have cost hundreds of thousands of dollars to build and equip, are lying idle.
Operating theaters typically cost an average of $2500 per hour, including equipment, utilities, and salaries.
Photos obtained from the herald show that theaters are packed with carts stacked with boxes and cables, medical imaging equipment, and several operating tables yet to be used.
A photo shows an operating room set up for an information event. In the photo, rows of chairs are arranged in front of a screen displaying the text: "Human Factors of OT Staff … Westmead … February 2023".
Loading
Westmead Children's Hospital had 2,500 children on waiting lists for elective surgery at the end of September 2022. Hospital workers say that number has risen in recent months.
When Block K opened in March 2020, 56 children at Westmead and Randwick Children's Hospitals had waited longer than clinically recommended for their surgeries.
As of late September 2022, nearly 1,000 children had waited longer than clinically recommended, a problem exacerbated by COVID restrictions on elective surgeries, Bureau of Health Information data shows.
The herald announced in November that the four operating rooms were left unused due to an ongoing staff recruitment and retention crisis in the anesthesia and intensive care units, exacerbated by long hours of high-intensity work, fatigue and burnout.
On November 11, a spokesman for the Sydney Children's Hospital Network released a public statement saying that the operating rooms are "expected to open in early 2023".
But just 10 days earlier, co-heads of the anesthesia department had told hospital management that that schedule was impossible.
An internal letter from the heads of the anesthesiology department dated November 2, 2022 describes two meetings with hospital management on October 11 and November 1, at which the specialists said the operating rooms could not open until February without the already overburdened services for some to affect the sickest children in the state.
The letter said the hospital's anesthetists could not keep up with demand for current services due to "our ongoing staffing crisis".
"We are concerned that SCHN appears to be proposing that Block K needs to expand its services, despite the clear indication that we cannot accommodate this with our current staffing situation," the letter reads.
Health Secretary Brad Hazzard dismissed it herald's questions for the Sydney Children's Hospital Network.
A spokesman for SCHN said the network is continuing to work on the opening of the new operating rooms, recruitment is underway and any child in need of urgent surgery will receive it without delay. The majority of elective surgeries continue to be performed on schedule in existing wards.
Loading
"SCHN has offered a number of options to existing anesthesiologists [the Sydney Children's Hospital Westmead] to address their concerns. This includes working hard to find ways to increase the pay of anesthesiologists within the legal framework and the NSW Government's public sector wage cap."
The specialists are pushing for an increase in pay, a "recruitment and retention allowance" of 40 percent of their base salary (less than the 50 percent allowance in some other states), and better conditions for hiring and retaining employees.
The senior staff employed directly by public hospitals across the state are subject to NSW's public sector wage cap and the NSW Industrial Relations Commission found in December 2022 that the wage rate applicable to them was not of the 24/7 nature of suits their work.
A comparison of specialist pay between Australian states shows that pediatric anesthesiologists in Melbourne can earn almost US$600,000 and their counterparts in NSW about US$360,000.
Loading
The SCHN spokesman said six newly hired anesthesiologists would start work at the hospital between February and August.
The department currently has 27 full-time employees covered by 42 employees. The six recruits would bring the hospital closer to the agreed minimum of 35.4 full-time equivalents of senior anesthesiologists needed and six months beyond the February deadline.
The Morning Edition Newsletter is our guide to the day's most important and interesting stories, analysis and insights. Login here.
https://www.smh.com.au/national/nsw/are-these-operating-theatres-the-most-expensive-cupboards-in-sydney-20230223-p5cn00.html?ref=rss&utm_medium=rss&utm_source=rss_national_nsw Operating theaters used as cabinets at Children's Hospital Westmead