Opera Up Late, Opera Australia's special event, at the Sydney Opera House in February
Growing up in Melbourne, comic cabaret star Reuben Kaye's family – the Krums – loved opera, including him.
Both of his filmmaking parents enjoyed watching it and his brother Samuel, a countertenor, loved singing it and now works as an opera singers agent in London.
"I forced them to watch me play carmen and staged every death in opera, from Lucia di Lammermoor in her blood-stained nightgown dying of insanity to the tragedy of Tosca, which I would play falling off the back of the couch," says the queer comedian.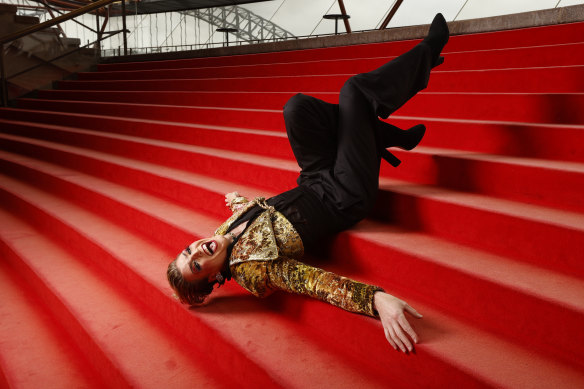 "I'm a melodramatic Jewish gay boy, need I say more?" says the actor, best known for his appearances on ABC spots and stains, the Melbourne International Comedy Festival Galas and SBS's Celebrity Letters and Numbers.
His grandmother Marie was so fond of opera singer Joan Sutherland that she once brought flowers and a homemade cake to the stage door of the Sydney Opera House.
Now Kaye will make his opera house debut on stage at the Joan Sutherland Theater when he hosts two exclusive performances of Opera until late, a bespoke arts event hosted by Opera Australia in partnership with Sydney WorldPride.
Opera until lateDescribed as a grand collision of high opera and drag cabaret, directed by Opera Australia's award-winning Shaun Rennie, will combine queer romance, drag and opera's most famous arias.
It will also shed light on the extraordinary talent the queer community is bringing to the national opera society.
"Queerness is sewn into the fabric of the opera with all these tight corsets and high drama involving flawed men and tragic women," says Kaye.
"Over the decades we have seen how elitist opera has become, but this will bring it back to its populist prime in cabaret.
"I won't be the first drag queen to take the stage at the Joan Sutherland Theater and I certainly won't be the last."
Loading
With performances from 11 p.m On February 18th and 23rd, the show offers a rare nighttime glimpse beneath the city's famous sails.
Australian tenors Tomas Dalton and Benjamin Rasheed, mezzo-sopranos Angela Hogan and soprano Cathy-Di Zhang, and rising musical star Annie Aitken will perform.
Rennie – directed the sold-out 25th Anniversary production of Rent in the opera house, revived La boheme this year and continued to work as an assistant director Aida – says that this will not be an ordinary evening at the opera.
"I'm thrilled to be collaborating with Opera Australia and Sydney WorldPride to create a night that celebrates opera and other great musical anthems through a queer lens and celebrates the exceptional queer talent on stage," says Rennie.
Preparations are already underway across the city for WorldPride, which will take place from February 17th to March 5th.
Beginning Monday January 9th, George Street North near Wynyard will be transformed into a giant LGBTIQA+ Pride rainbow flag.
Loading
Color-coordinated seating will also be set up as part of the work, Lord Mayor Clover Moore said.
"We're bringing a colorful kaleidoscope to the heart of the city as we celebrate diversity, inclusion and tolerance," said Moore.
Kaye, who changed his last name from Krum in honor of artist Danny Kaye, will also perform his award-winning show The butch is back at the Enmore Theater on April 28 with his band of six; and two solo shows at the Bondi Pavilion on February 21 and 22 for WorldPride.
A cultural guide to going out and making love in the city. Sign up for our Culture Fix newsletter here.
https://www.smh.com.au/culture/opera/drag-queens-singing-arias-opera-up-late-takes-centre-stage-for-worldpride-20230105-p5cami.html?ref=rss&utm_medium=rss&utm_source=rss_culture Opera Up Late, Opera Australia's special event, at the Sydney Opera House in February