NSW women MPs unite across party lines to help improve the culture of the national parliament
It follows the landmark report by former sex discrimination commissioner Elizabeth Broderick, who found that a toxic and dangerous work culture had permeated the halls of Parliament.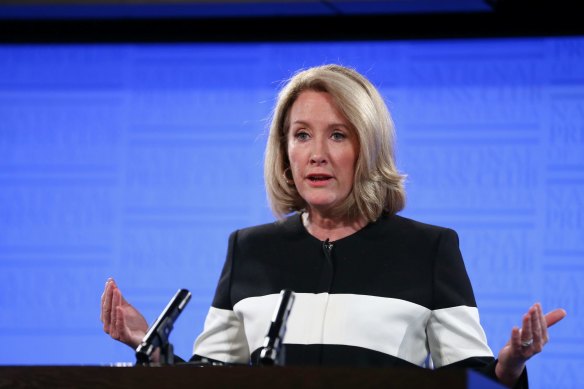 The report uncovered harmful behaviors that had "profound, devastating and long-lasting" effects on staff, prompting many to leave parliamentary jobs.
Leong said aggression, bullying and the masculinity of the "bear pit" are a part of daily life in Parliament and that "women didn't need the Broderick review to tell them about it".
Williams, who defected from the National to the Liberal Party in 2020, said the program is about more than career development.
"This initiative aims to empower us and enable us to improve the political system itself," she said.
Tesch added that the course was created to amplify women's voice in a parliament largely "designed by men for men, in which women are still not represented on an equal footing".
MPs have urged Borsak to apologize for his comment last week, arguing that even in a robust political atmosphere, evidence of physical assault crossed a line.
Borsak has refused to back down, accusing Dalton of playing "the victim card and the gender card".
"I've never known anyone who bullies and intimidates people by abusing their parliamentary position… to play the victim card and the gender card as much as Helen does when it's convenient for her. It has to be called out," he told dem herald.
There are 32 women among the 93 members of the NSW House of Commons and 13 women in the 42-member House of Lords.
Loading
The Next25 leadership course is one of many external training programs for parliamentarians that they can pay for with a qualification allowance. However, the November program is only offered to female MPs.
Next25's Chloe Spackman said the decision to exclude men initially was there to create space for honest and vulnerable discussion and to foster relationships.
"The intent is to involve the entire political system in the concrete actions that follow
Program."
Women Secretary Bronnie Taylor said she supports any initiative where women support other women, adding that the regular work of women parliamentarians "across the aisle" often goes unnoticed.
The Morning Edition Newsletter is our guide to the day's most important and interesting stories, analysis and insights. Sign up here.
https://www.smh.com.au/national/nsw/nsw-female-mps-unite-across-party-lines-to-reform-bear-pit-culture-20220928-p5blo2.html?ref=rss&utm_medium=rss&utm_source=rss_national_nsw NSW women MPs unite across party lines to help improve the culture of the national parliament