NSW Police pursuit results in fatalities in NSW Central West
A 23-year-old man has died at the wheel of a suspected stolen Holden Commodore in a multi-car crash outside the small town of Orange, New South Wales, following a police chase.
Highway Patrol officers tried to stop the Commodore on Tuesday after reports it was stolen from Blayney, 30 kilometers south of Orange, last Thursday.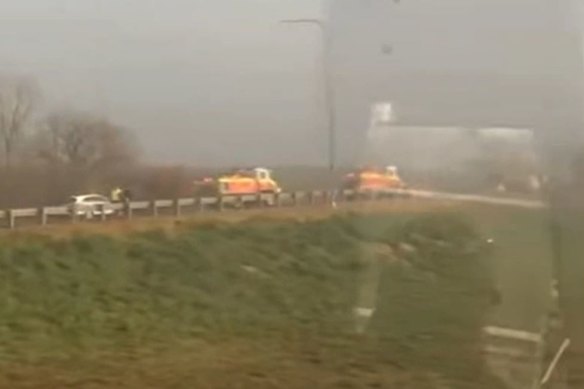 The driver did not stop and police gave chase before quickly calling off the pursuit "due to driving style and weather conditions," New South Wales Police said in a statement.
Orange was covered in thick fog on Tuesday morning.
A short time later, rescue workers rushed to the Mitchell Highway, just outside of town, after four vehicles were involved in an accident.
The Commodore had crashed along with a Ford Ranger, a small hatchback and a bus. The driver of the Holden died at the scene of the accident.
A social media video appears to show a gray Mazda with minor damage to the front while fire engines and other emergency responders direct traffic past the scene of the accident.
The male driver and passenger of the Ford Ranger were treated by paramedics from the NSW Ambulance before being taken to Orange Hospital.