NSW has contracted $5 billion through 2030
These four contracts for passenger services in the South West, North West, North Coast and North Beaches of Sydney each have a term of approximately eight years.
After campaigning fiercely against the consequences of privatization ahead of the election, Labor has pledged to set up an industry task force to look at bus services.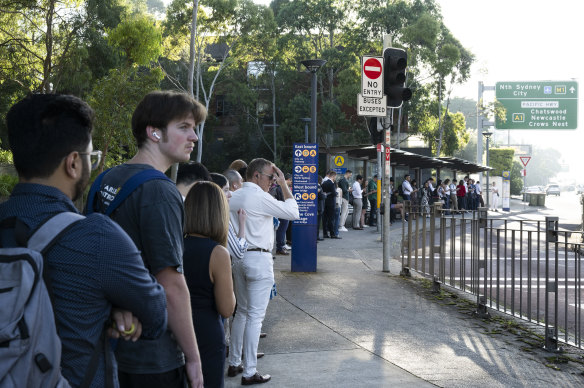 This is followed by a parliamentary committee which, at the end of last year, recommended that the government bring privately operated bus networks back into public hands.
However, the new long-term contracts will make any significant change more difficult, as the government will likely face break fees if deals are changed.
Neither the transport companies nor the private bus companies answered questions about compensation in the event of contract termination or change.
Loading
Transport for NSW said the recently signed contracts were for areas in Sydney that had always operated under contract with private operators and were re-tendered after the previous terms had expired.
"They were tendered in accordance with NSW procurement guidelines and signed ahead of the pre-election caretaker period," it said.
"Transport for NSW is undertaking an extensive tendering process for the provision of bus services with the aim of offering customers the best service at the best value for money for the NSW taxpayer."
Green Party spokeswoman Abigail Boyd said the previous government's decision to sign billions of dollars in new contracts in the months leading up to the election raised serious questions about the integrity of the process.
Loading
"It anticipated the will of voters when transport privatization was such a focus of the election," she said. "The coalition must have known that this would make it much more difficult to repeal these contracts and for a new government to improve bus services."
Former Transport Secretary David Elliott was asked for comment.
The last regular bus services in Sydney run by the Government were in the Eastern Suburbs, Northern Beaches and some North Western Suburbs, which were contracted out to private companies in 2021 following the dissolution of the State Transit Authority.
Delays and cancellations of bus services have plagued commuters on routes across Sydney for the past two years, with the eastern suburbs, inner west and northern beaches hardest hit.
Government figures showed some 28,000 bus services in Sydney were canceled in whole or in part last August, making it the worst month for cancellations in two years.
The bus companies, which signed new contracts between November and February, were asked to comment. Those who responded said the contracts were confidential and referred questions to Transport for NSW.
The Morning Edition Newsletter is our guide to the day's most important and interesting stories, analysis and insights. Login here.