NSW ends 'fad' of open classrooms after complaints about learning
Rajendra said it's a misnomer to describe many open-plan learning spaces as "flexible learning spaces" because they're not built with sound-absorbing walls that can be moved to create smaller spaces.
"The design of our schools was in the hands of architects, not teachers, and the result of that, for many, was that it didn't work…it's a 40-year-old fad that they've introduced as something new and innovative." ", he said.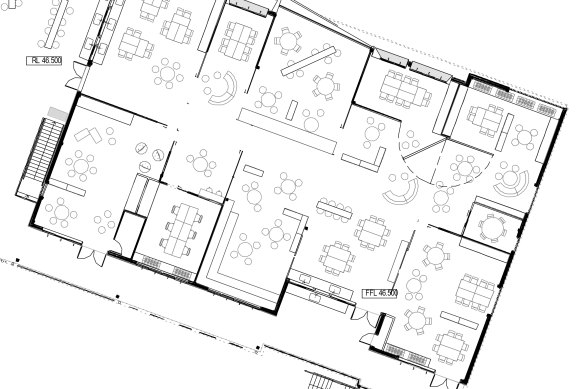 Open classrooms originally became popular when "team teaching" became fashionable in the 1970s. This practice, in which two teachers work with a larger group of students, declined in popularity over the following decades.
The rise of "student-led" and "21st-century learning" placed a greater emphasis on group work, collaborative projects, and less lecture-style instruction.
Educational researchers at Latrobe University found in 2013 that flexible learning spaces promoted flexibility, visibility and control, and were a response to the "closed and authoritarian classroom of the industrial era".
Loading
By 2016, the Department of Education had established its Futures Learning Unit, which focused on rethinking and redesigning the way teaching and learning was conducted.
It states that flexible learning spaces mirror the environments students may encounter in the world of work, where there is an increased focus on self-direction, self-reflection, assessment and collaboration.
According to a University of Melbourne study published this year, students find it harder to study in open classrooms because of the high levels of noise.
"This increased cognitive effort to suppress the distraction, in turn, leads to an additional load on working memory and thereby affects learning success," it said.
It also found that students with lower attentional skills "are at increased risk of either spending more time disinterested in educational activities in the open-plan environment or requiring more cognitive resources to sustain attention, leaving them less time to facilitate their learning ".
Plans for new public schools use Learning Hub layouts, which serve as a starting point for school designs. This includes learning spaces that allow for movement and collaboration between classes.
An Education Department spokeswoman could not say how many open-plan classrooms have been built in the past decade, but work is being done to identify them in the schools.
"The vast majority of recently completed new and upgraded schools have traditional classrooms with breakout areas," she said.
"The department is counting the number of schools with open classrooms. If schools have concerns that these spaces are interfering with student learning, the department will work with each school."
The Morning Edition newsletter is our guide to the day's most important and interesting stories, analysis and insights. Login here.