NSW Education Standards Authority 'Reductive' Curriculum: Arts Teachers
Art students in secondary schools would no longer have to learn to draw within a draft curriculum that teachers have criticized as "disappointingly reductive" and offering unclear guidance on how to teach the subject.
The NSW Education Standards Authority last month released for consultation a new syllabus for the Years 7 to 10 fine arts course, which removes postmodernism as the conceptual lens through which students view works of art, while practical activities in the course such as painting referenced a were footnote.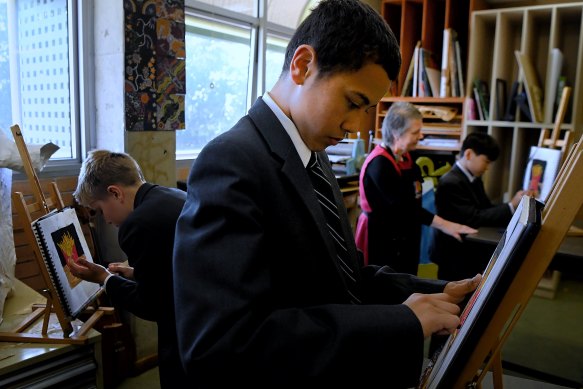 In a letter to art teachers across the state last week, the Visual Arts and Design Educators Association of NSW criticized the proposed curriculum for lacking clarity about what students need to learn.
"The design represents an erosion of the quality, depth and academic rigor encouraged over the past 20 years by our current Fine Arts 7-10 curriculum," it said.
In NSW, 7th and 8th graders are required to study fine arts in high school and can take it as an option in 9th and 10th grades.
The release of the draft follows the release of the 2020 'once in a generation' review of the NSW curriculum, which called for streamlining of content across all subjects to encourage a deeper understanding of key concepts. Politicians said the cleanup would give teachers more flexibility.
Visual Arts Association co-president Nicole DeLosa said the proposed curriculum would make teachers' jobs more difficult because it was less clear what exactly they should be teaching.
"The formulation of the curriculum reform is all about retaining essential facts and knowledge and decluttering and streamlining the concepts, but in our case a lot of essential content has been removed and that has taken the gist out," she said.
DeLosa welcomed the retention of conceptual aspects of the previous curriculum and said she was not opposed to removing the requirement for students to learn to draw. However, she said more clarity about expectations is needed.