Novak Djokovic feels no pain and inflicts a lot of it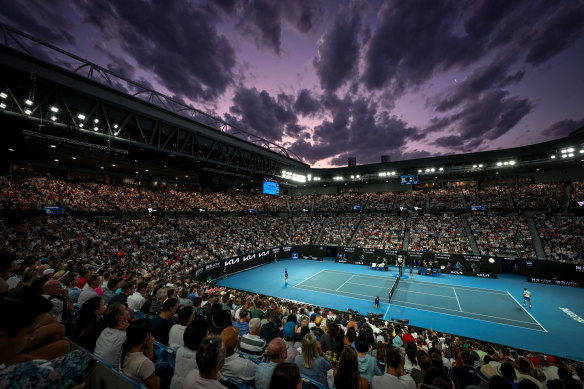 He rubbed his temples as if it were all too hard, then ran what appeared to be miles across the court in an attempt to reach a ball, control it and shoot back a winner. If his hamstring was the problem, he should try to tweak it before each game.
He howled at the wind—there was a bit of it—at the sky, and then smashed another howler. He half-stumbled in his serve action and fired another ace seconds later.
He would stare and yell at his box like he was Nick Kyrgios or something (he's not). He would reproach himself for being the only one who would understand, and then play a lob that was as delicate as if it had been a butterfly.
For a moment deep in the third set, he appeared to be in serious trouble after a run, reaching over the baseline. As he made his way to the end, he was perky. But when play resumed, so did normal service.
Loading
Poor Rublev. One could say that the Russian was caught between the devil and the deep blue courtyard.
That's not to say Rublev was meek in defeat. He's a boxing fan who trains a bit himself. He's pretty much the hardest hitter on the tour and he threw the kitchen sink at Djokovic, who turned off the tap, unplugged it and handed it back. Rublev hit some amazing shots. It's just that Djokovic got most of them back.
He would turn his head to stay with Djokovic. Luckily he didn't need a physio. For all his ferocity, all his struggle, he got no further than a few break points, which he lost.
Rublev had previously reached and lost six quarterfinals. He might have thought himself unlucky to go to another and find Djokovic at the other end of the courtyard. Or not. That's not how professionals think.
Still, he couldn't be blamed for asking why he couldn't get a Karen Khachanov or a nice little Tommy Paul just once?
Paul is next for Djokovic. Earlier in the day, while Djokovic was putting on his show at Rod Laver Arena, the American made media to explain his own quarter-final win.
It might as well have been that he wasn't watching. The mere thought of playing Djokovic in this form might have given him a pang of anticipation.
Sign up for our sports newsletter here for daily updates on all tennis action during the Australian Open.
https://www.smh.com.au/sport/tennis/djokovic-feeling-no-pain-inflicting-plenty-of-it-20230125-p5cfis.html?ref=rss&utm_medium=rss&utm_source=rss_sport Novak Djokovic feels no pain and inflicts a lot of it