Northern Territory to get stricter income management
"We know that extra money circulating without real care about the possible consequences will inevitably become a police problem," he said.
Loading
Australian Indigenous Minister Linda Burney said Wednesday morning she had been urging the Northern Territory government to crack down on alcohol for months after persistent calls for action from Alice Springs community leaders.
On the morning after the federal and territorial governments jointly announced an overhaul of alcohol sales to curb rising crime in the central Australian city, Burney told ABC's Radio National Breakfast on Wednesday that the territorial government admitted "that they clearly got it wrong have", for not having replied earlier.
Federal laws restricting alcohol consumption in some communities were overturned in July. Alcohol-related crime has increased dramatically in the area as alcohol became legal in some areas for the first time in 15 years.
The Central Australian Aboriginal Congress wrote to Burney on June 9 shortly after the minister was sworn in about violence and alcohol, and several other Indigenous groups have since called for bans.
Burney said she has been in talks with the Northern Territory government for months, at least since the Garma festival in July.
When asked if she told them they needed to be tougher on alcohol, Burney replied, "Yes, I did express that drinking restriction is a serious concern."
"I'm not going to get into whether or not they took too long, but if you talk to people in Alice Springs, the answer could be yes," Burney said.
Burney said she was "deeply" convinced that the rise in crime in Alice Springs would not have reached the levels it has if there had already been a vote for Parliament.
"It's wrong to think that the problem out here is just alcohol, there's been neglect for 10 years," she said.
In addition to an existing restriction on alcohol sales on Sundays, bottle shops would be banned from selling takeaway alcohol on Mondays and Tuesdays, while takeaway trading hours would be reduced on the remaining days and transactions would be limited to one per person. per day.
Prime Minister Anthony Albanese said on Tuesday the government would also consider reinstating alcohol bans in the Northern Territory as part of an "opt-out" situation rather than the current rules, which allow communities to opt out after federal laws on alcohol are repealed Restrictions to decide in July.
But the territory's chief minister, Natasha Fyles, told Radio National Breakfast she may want to hold a formal election on future alcohol bans in the territory, adding she wants to make sure "we all hear voices".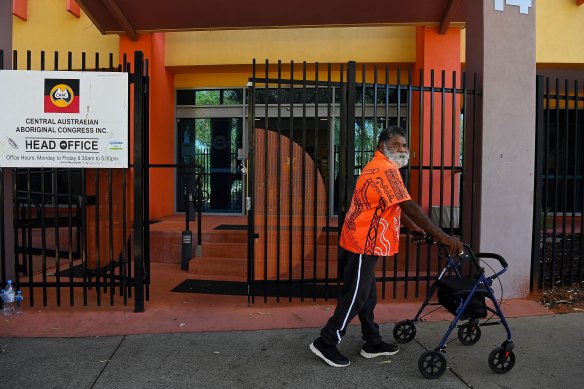 She said the government will introduce an alcohol management plan across central Australia, which could include restrictions in remote communities.
Education Secretary Jason Clare told Nine's today on Wednesday morning: "You've got a serious problem at Alice, and it's fueled by alcohol".
Clare said alcohol abuse was just "a symptom of a bigger problem" in crime-ridden Alice Springs.
"The real chronic issues at Alice… Tackling the grog problem is part of it, but that's just the beginning. There are bigger problems there, also related to education and unemployment. That is one of the reasons why I am also there as Minister of Education."
On sevens sunrise Deputy Secretary for Indigenous Affairs Senator Malarndirri McCarthy said the next three months would be critical.
"I would like to say to the people of Alice Springs and here in Central Australia that it is about listening to the concerns of wanting to feel safe. There had to be a circuit breaker."
Break through the noise of federal politics with news, perspective and expert analysis from Jacqueline Maley. Subscribers can sign up for our weekly Inside Politics newsletter here.
https://www.smh.com.au/politics/federal/indigenous-affairs-minister-says-nt-clearly-got-it-wrong-lifting-alcohol-bans-20230125-p5cf98.html?ref=rss&utm_medium=rss&utm_source=rss_politics_federal Northern Territory to get stricter income management