North Sydney Council wants to ban the coffee truck
All is not well in the port suburb of Kirribilli.
The normally peaceful pedestrianized Burton Street, home to cafes and boutiques that give the suburb its affluent charm, is now the scene of a months-long conflict between the local council and a cafe owner over the legality of his coffee truck.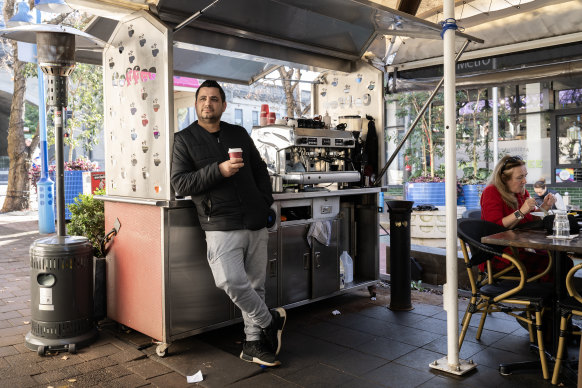 Tony Morgan, owner of Morgan's Kirribilli and the adjacent cafe San Antonio Sourdough Bakery, has been using a seven-foot coffee maker and serving table to sell coffee for five years. He and his staff have brewed more than 150,000 coffees there, he says, and their sales account for more than half of his business.
But now he's on the wrong side of North Sydney Council, which insists its coffee van is breaking al fresco dining rules.
If the cafe rents the sidewalk space from the community, it must comply with its policy on al fresco dining and selling merchandise on sidewalks. This policy – which aims to create areas that "contribute positively to the streetscape" – does not allow for the installation of coffee trucks or other intensive goods production equipment such as cooking facilities, according to a new council report.
But Morgan says the ongoing saga, which began last year when a complaint was lodged with the council, has "become a war for me" despite asking the council for advice on the car.
"I called before I bought it," he said. "And they said, 'We don't have a policy for that, we've never seen anything like this before.' But… you can put it there if you want, but if anyone complains, we must come and investigate.'
"For five years not a single person complained, nobody said anything," he said. "Everyone wanted to support it."